MOUNT VERNON, N.Y. (June 27, 2018) – 38 graduating seniors accepted their diplomas from Mount Vernon City School District Superintendent Dr. Kenneth R. Hamilton at this year's Nelson Mandela/ Zollicoffer High School commencement ceremony, which was held at AB Davis Middle School.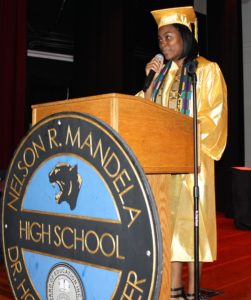 23 of the graduates will be attending college in the fall, with students accepted to Berkeley College, Purchase College, Dutchess Community College, LaGuardia Community College, SUNY Broome, SUNY Sullivan and Westchester Community College. The graduating class included recipients of more than $15,000 in scholarships awarded by colleges, as well as organizations including the Mount Vernon Federation of Teachers, the PTSA and the Church of Ascension.
Valedictorian Queen Boswell and Salutatorian Shaquan Lowe addressed their classmates and gathered attendees, reflecting on the time they've spent at Mandela and the bonds they've created with fellow students. They also urged their peers to be the authors of their own futures, with Boswell offering three specific tips.
"Stay out of your comfort zone," she said. "Put what you believe in first; don't waste your time with things outside of your vision, and surround yourself with ambitious, hardworking people."
Lowe took the opportunity to urge his classmates to avoid complacency and be proactive to achieve the things they dream of. "The future isn't something that happens to us," he said. "It's ours to make!"
Lowe's echoed an earlier sentiment shared by the Honorable Mayor Richard Thomas in his mayoral address. "Remain woke," the Mayor told the students. "Know that this world is yours; you just have to go on and take it."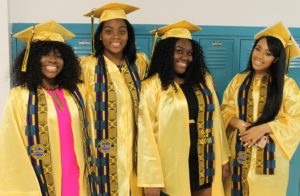 Dr. Hamilton encouraged the students to stand up to injustice and make a difference at a challenging time in our country. "As young people, you are positioned and poised to be policy makers and policy influencers and people who can make a difference. I encourage you to use the power of your voice."
This year's Mount Vernon City School District Superintendent's Academic Achievement Awards went to Boswell and Lowe, who also each received a Mayoral Award. Nala Parks was honored by Dr. Hamilton with the Most Improved Student Award, and also performed a vocal solo as part of the commencement ceremony.
About Mount Vernon City School District
With more than 8,000 students in 16 schools, and students returning from private schools, the Mount Vernon City School District is committed to providing a quality education to its children as well as developing programs that meet the diverse academic and social needs of its students.