Hudson Valley EMS professionals were honored for their service to the community
NEW WINDSOR, N.Y. (May 25, 2018) – Mobile Life Support Services, the largest emergency service provider in New York State, second only to the New York State Police, honored its local heroes for their services to the Hudson Valley community during the 44th annual National EMS Week. The company's management team cooked breakfast and lunch for the more than 480 EMT professionals at multiple Mobile Life stations across the region.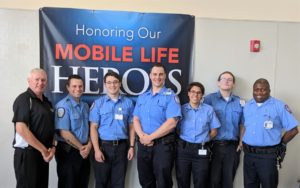 "The men and women that show up for work wearing their blue uniform and Mobile Life badge perform lifesaving services every day," said Mobile Life Support Services President and CEO Scott Woebse. "Taking the time to cook our crews breakfast and lunch is the least we can do to celebrate them and the important contributions each one of them has made to the communities we serve."
EMS Week, which lasted from Sunday, May 20, through Saturday, May 26, is recognized nationwide to celebrate EMS practitioners for the important work they do to maintain the health, safety and wellbeing of the nation's residents. The weeklong celebration was introduced by President Gerald R. Ford in 1974 and has become an important tradition in the EMS industry.
"This annual tradition gives our first responders an opportunity to stop by the station for a meal and reflect on what it means to be an EMT," said Peter Schinella, assistant director of field operations at Mobile Life. "We make an effort every day to ensure our professionals know how valued they are, but EMS Week provides both on-duty and off-duty crews with a token of appreciation for their exemplary service."
Mobile Life is the designated 911-EMS Agency for more than a dozen municipalities in the Hudson Valley, including Newburgh, Middletown, Kingston and Poughkeepsie. The company also provides supply services to most of the 14 hospitals in its service region.
Mobile Life is dedicated to maintaining exceptional response times and continually introduces innovative technology that allows its EMT professionals to provide the best service and care to the communities they serve. Every Mobile Life emergency response unit is equipped with GPS tracking and Automatic Vehicle Locators (AVL) that feed data into a Computer Aided Dispatch (CAD) system to ensure that the closest available unit is dispatched to the call location.
To learn more about Mobile Life, visit www.mobilelife.com.
About Mobile Life Support Services, Inc.
Mobile Life Support Services, Inc. is a New York State Certified Advanced Life Support paramedic ambulance company that provides emergency services to communities and healthcare facilities throughout the Hudson Valley Region of New York State, including the counties of Orange, Rockland, Ulster, Dutchess and Westchester. Founded in 1981 by Rick and Gayle Metzger, Mobile Life is composed of more than 480 EMS professionals across the region and operates a fleet of more than 60 ambulances and 24 stations. With a collective population of more than 1,000,000 residents, Mobile Life handles approximately 100,000 calls per year. For more information, visit www.mobilelife.com.