MOUNT VERNON, N.Y. (Feb. 7, 2018) — "Science" was the big word of the day at Lincoln Elementary School recently when students in all grade levels celebrated the various methods and principles of scientific inquiry at the school's annual Science Fair.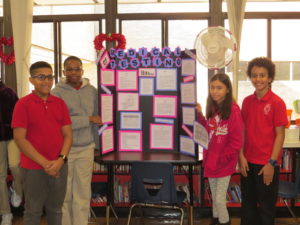 Elaborately created tri-board displays lined hallways and classrooms as students in the third through sixth-grades toured the building with their teachers.  Outside visitors included parents, grandparents and school officials, who were happy to see their science research work and often quizzed students on the details of their displays.
"The fair was about making connections with science and building more and more knowledge," said Assistant Principal Marc Molina.  "This brought our stakeholders together. It gave children a chance to interact with each other, and projects were a result of cooperative or independent learning.  For teachers of different grade levels, it gave them a chance to see what other grade levels are doing."
Each grade level was assigned a specific theme to match its curriculum. Third-graders developed science projects tied to endangered species; fourth-graders focused on simple machines; fifth-graders created projects tied to life science; and sixth-graders were afforded a chance to create a research project on the topic of their choice.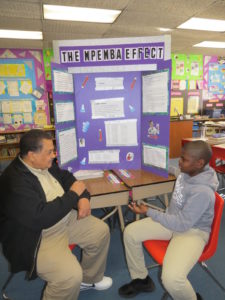 Sixth-graders Enmanuel Contreras, Rashaun Grey, Andrea Rodriguez and Mohamed Basheer joined forces to present a project called, "Medical Testing."
The project's idea originated with Andrea, who read a story about a boy who died after an MRI and wanted to learn more about it.
When asked what was most important about their group work experience, each focused on different things.
"Working in groups is easier than working by yourself," said Enmanuel. "I learned many new things I didn't know."
"I learned about x-rays," Rashaun said. "I learned how they help to find bad stuff in your body."
"I learned about MRIs and what their images are going to be used for," added Andrea.
"I learned what a CT scan does and what it's used for and how it can be good and harmful," said Mohamad. "I learned stuff I didn't know before."
In the fourth-grade wing, Marcos Ferreira explained to Assistant Principal Molina about his project called "The Trebuchet," meaning, "launch-over."  In addition to a display, Marcos created his own trebuchet, a catapult-like machine.
"When people think of simple machines, they usually think of things like cars," Marcos said. "So, I thought what could I do that others won't do? I thought of a catapult. There are different types, and I thought of this."
Marcos demonstrated to Molina the force by which the swinging arm could throw a projectile, if fully loaded. Molina asked him to draw some real-life connections to his project. Both realized that catapult-like machines are used at the Medieval Times Tournament and Dinner shows.
Third-grader John Adam Witherspon, wearing a homemade "Save the Chubby Unicorns" shirt, explained his project focusing on rhinoceroses, one of many endangered species on the planet.
"When I was little, I loved going to the Bronx Zoo to see them," he said, handing out rhino stickers to passers-by. "I worry about them. There's not a lot of them left. My favorite is the white rhino. Lions and people are their predators. They need to stop killing these animals. They need to stop using their ground-up tusks for soup."
And, fifth-grader Isaac Amouzou was among a group of students who had special outside visitors see their projects.  His grandfather, Bruno Pennanesch, was eager to hear all about his project.
Isaac's project was entitled, "The Epemba Effect," named after Erasto Epemba, who, with his friends, realized it was quicker to make ice cream using boiled, hot milk.  The project's basic takeaway was that hot water freezes faster than cold water does.
As his grandfather intently listened, Isaac explained the science behind that, noting most people would think just the opposite.
"It's better to freeze hot water," he said. "If you want to make a popsicle quickly, you must use hot water."
Though Isaac said he's definitely interested in science, he doesn't plan a career in the science field.
When asked what he'd like to be when grows up, Isaac immediately responded, "I'm going to be a criminal lawyer.  And, I'm going to attend Cornell University Law School."
While he's there, he'll undoubtedly be making hot water popsicles for his professors and classmates.
About Mount Vernon City School District
With more than 8,000 students in 16 schools, the Mount Vernon City School District is committed to providing a quality education to its children as well as developing programs that meet the diverse academic and social needs of its students.