From art galleries to history museums, there's plenty to do indoors in the Hudson Valley
ORANGE COUNTY, N.Y. (March 5, 2018) –In addition to the farms and markets for which the Hudson Valley is known, the region is brimming with historic sites, art galleries and antique shops. These fun-to-explore indoor venues are perfect for any season. Whether you're a shopaholic or a history buff, Orange County's wide variety of unique indoor attractions will captivate and delight you.
The Orange County Tourism staff recommends winding down your day of exploration at one of the county's farm-to-table restaurants, wineries, breweries or cideries. Make it a longer excursion with an overnight stay at one of Orange County's select hotels or charming B&Bs.
Discover items to add to your antiques collection in the historic village of Montgomery. Some antique shops to peruse include:
–Clinton Shops Antique Center, 84 Clinton Street, Montgomery: With more than 100 collective years of experience in the antique market, the Clinton House team hand-picks antique collectibles and furniture to ensure fresh inventory for their customers.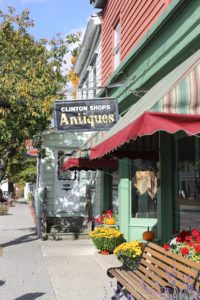 -Montgomery Antique Center, 40 Railroad Avenue, Montgomery: Find furniture, lighting, artwork, vintage items, clothing and jewelry, books, and toys in the 2,800-square-foot center. Montgomery Antique Center is a multi-dealer shop, which allows you to find a variety of antiques dating back to the mid-century. 845-457-7100
Browse an outstanding collection of handmade arts, crafts and gifts in the Sugar Loaf Art & Craft Village. One-of-a-kind craftsmanship can be found at galleries and shops, including:
–Exposures Gallery, 1357 Kings Highway, Sugar Loaf: Browse Hudson Valley, national and international photography by Sugar Loaf resident Nick Zungoli in one of the original Sugar Loaf houses.
– Hengen Gallery, 1382 Kings Highway, Sugar Loaf: Located in Hallock House, the oldest dwelling in Sugar Loaf, the gallery hosts exhibits from diverse contemporary artists.
Orange County's museums cover a variety of themes. Commemorate our country's military history at one of these special sites:
– National Purple Heart Hall of Honor, 374 Temple Hill Road, New Windsor: Experience the stories of Purple Heart recipient through film, interviews, exhibits, and the Roll of Honor, an electronic database of recipients from the Civil War through Afghanistan.
–West Point Museum, 2110 New South Post Road, West Point: See the collection of more than 60,000 Army historical artifacts that inspire and educate the U.S. Corps of Cadets on a daily basis.
Orange County Tourism's Facebook page: Orange County Tourism NY is a fabulous guide to up-to-the-minute postings of area events and activities, great times, and memorable experiences. For a comprehensive list of things to see and do, visit Orange County Tourism's innovative and user-friendly new website: www.orangetourism.org.
About Orange County Tourism
Orange County Tourism, based in Goshen, N.Y., is the county's tourism headquarters and a participant in the I LOVE NY program. A comprehensive listing of area attractions, lodging, and events can be found at www.OrangeTourism.org. For a free copy of the Orange County Travel Guide, e-mail tourism@orangecountygov.com or call 845-615-3860.