Fifteen local residents will share their month-long experiences driving Lincolns on social media and the most influential Lincoln ambassador's cause will receive $5,000 from Healey Lincoln.
GOSHEN, N.Y. (June 12, 2018) — Healey Lincoln in Goshen is putting 15 Hudson Valley residents behind the wheel of Lincolns this summer for a chance to win five thousand dollars for their cause of choice. The campaign launched June 1 with five local residents receiving the keys to new Lincolns to drive in luxury for a full month. The drivers were able to choose the –Lincoln SUV or sedan that best fits their needs and desires.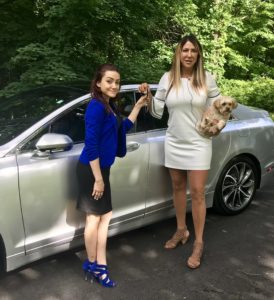 The five area residents participating in June are:
-Beth Douthit driving the Lincoln MKX, Monroe resident, Insurance Consultant, Cause: Burke Catholic High School
-Laura Moritz driving the Lincoln MKZ, Monroe resident, Mortgage Banker, Cause: Pets Alive
-Ashli Helm driving the Lincoln MKC, Mount Hope resident, Fitness Instructor, Cause: Allyson Whitney Foundation
-Ryan Coakley driving the Lincoln Navigator, New Windsor resident, Cause: Food Bank of the Hudson Valley
-Jesse Almodovar driving the Lincoln Continental, Walden resident, Cause: National Alliance for Mental Illness
"It's a really awesome opportunity to get the chance to drive a new vehicle, and I love that it's a local dealership doing something that's going to benefit someone's charity," said Helm as she checked out the features of her Lincoln MKC. "It's not something you see every day."
"There are a lot of hungry people out there and you really don't think about it when you don't have that problem," said Coakley upon receiving the keys to his Lincoln Navigator. "I think it would be fitting to benefit the Food Bank of the Hudson Valley if I'm able to win the grand prize."
Five more residents will be chosen for the month of July, and another five for the month of August. In all, 15 local influencers will be chosen from a large pool of online applicants. The 15 chosen individuals have agreed to drive the cars — no strings attached — with only requirements to post their honest experiences on their personal social media platforms.
The campaign is both competitive and compassionate. At the end of the three month campaign, Healey Lincoln will donate $5,000 to the cause chosen by the local resident who best personifies the Healey Lincoln brand on social media.
"We're excited to give area residents who have never been behind the wheel of a Lincoln this experience, but it was also important to Healey that this campaign benefit a cause," said John Koerner, executive general manager. "Given how passionate the participants are about their causes, we expect that there will be a fierce social media battle to win that $5,000 donation."
Participants are not being paid for their participation. Healey Lincoln is providing the vehicles at no cost, including insurance. Participants only need to cover gas costs.
About Healey Brothers
Healey Brothers, the Hudson Valley's largest automotive dealer, is a company of eight vehicle dealerships in the Hudson Valley owned by brothers Paul and Dwight Healey. Healey Brothers is the Hudson Valley's premier authorized dealer for these brands: Chevrolet, Buick, Ford, Lincoln, Chrysler, Dodge, Jeep, Ram, Kia, Hyundai and Mitsubishi. To learn more, visit: http://www.healeybrothers.com/
PHOTO of Monroe resident Laura Moritz receiving keys to her Lincoln MKZ from Laura Aiello of Healey Lincoln