MOUNT VERNON, N.Y. (June 5, 2018) – Eight Mount Vernon High School students have completed the school's Nursing Assistant course and are now New York State Certified Nursing Assistants.
"These students took on the challenge to become a Certified Nursing Assistant and now they have options for their future as they graduate," Elizabeth O'Loughlin, nursing instructor at MVHS.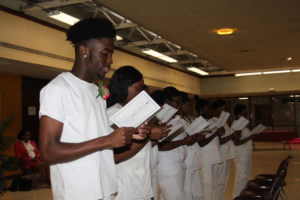 The students are: Sh'nya Banton, Kimaya Hamilton, Devonte Hyatt, Marieme Ly, Kayla Riley, Jahmeela Russell, Dionna Watson and Amanii Williams.
"The program is important to Mount Vernon students because it is the entry into the health career pathway," O'Loughlin said. "This will allow students the experience needed to work in the health profession immediately following high school and during their college years. This experience serves as a precursor to entry into a two-year or four-year nursing school."
The Nursing Assistant course follows the mandated training and competency for individuals performing nurse aide duties in accordance with state and federal regulations. The program, which is part of MVHS's Career and Technical Education course offerings, is regulated by both the New York State Education Department and the Department of Health to ensure the program meets industry standards. Students sit for both written and clinical (hands on) testing at the completion of the program.
"I would like to congratulate these exceptional students for choosing a path that will lead them to a wonderful career," said Superintendent Dr. Kenneth R. Hamilton. "Our nursing program is another important element of the School District's Career and Technical Education (CTE) program here at Mount Vernon High School. These students get a fantastic high school education while learning valuable skills that can propel them into the workforce."
The content of the curriculum includes skills and theories that are needed to facilitate the education and career development of students who wish to enter the health care system. A video of the students learning in the program can be found here.
As part of the program, the students also completed their resumes. Some of the students plan to attend colleges and will apply for Nursing Assistant jobs in areas closer to their schools, allowing them to work and study.
About the Mount Vernon City School District
With more than 8,000 students in 16 schools, the Mount Vernon City School District is committed to providing a quality education to its children as well as developing programs that meet the diverse academic and social needs of its students.