Savor locally-sourced food and drinks at Hudson Valley restaurants and tasting rooms
ORANGE COUNTY, N.Y. (March 19, 2018) – Orange County's rich agricultural history has led to locally-sourced dining options that are unparalleled. Local farmers, chefs and distillers have forged strong partnerships to provide visitors with fresh food and innovative culinary creations. Just 60 minutes from New York City, savor the fine tastes of local restaurants, wineries, breweries, cideries, and distilleries.
Between meals, delve into Orange County's many art galleries, museums, and premium shopping destinations, such as Woodbury Common. With an abundance of activities and wonders to explore, the Orange County Tourism staff recommends making it a weekend getaway with an overnight stay in one of Orange County's select hotels or charming B&Bs.
Indulge your palate at local farm-to-table restaurants, including: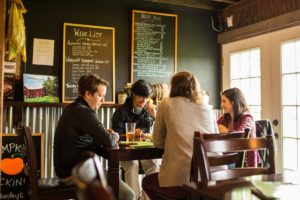 Borland House Inn Breakfast & Brunch House, 130 Clinton Street, Montgomery: Chef Anna Frumes cooks up unique farm-to-table brunch dishes inside the historical 1789 home of General Borland. Guests can also sign up for cooking classes or a private tasting menu. theborlandhouse.com/
Nimai's Bliss Kitchen, 94 South Robinson Avenue, Newburgh: Located in the heart of the Hudson Valley, Bliss Kitchen serves contemporary vegetarian and vegan Indian dishes that are naturally healthy. Check their schedule for cultural events and cooking classes, too. nimaisbliss.kitchen/
The Helm, 649 Jersey Avenue, Greenwood Lake: Innovative and rustic American cuisine and an amazing hand-picked craft beer selection will excite your tastebuds. Seasonal specials showcase The Helm's relationship with local farms and purveyors. Check out their pirate ship on the lake! thehelmny.com/
Explore the region's craft beverage selection at wineries, breweries, cideries and distilleries, including:
Orange County Distillery at Brown Barn Farms, 286 Maple Avenue, New Hampton: Sip on farm-fresh cocktails in a beautiful old barn on 23 acres. Orange County Distillery sources all of their ingredients from their farm behind the tasting room. brownbarnfarms.com
Fox N Hare Brewery, 46 Front Street, Port Jervis: Embracing the talents of farmers, bakers and artisans in the tri-state area, this new brewery delivers huge flavors in their taproom and restaurant. Enjoy the ambiance of their restored brick building in historic downtown Port Jervis. foxnhare-brewing.com/
Palaia Winery, 10 Sweet Clover Road, Highland Mills: Live music every weekend sets the groovy vibe. Take in views of the vineyard from the 200-year old barn as you enjoy the selection of local wines, craft beer, hard cider and spirits. Stop by for Sunday brunch. palaiawinery.com/
Be sure to visit Orange County Tourism's Facebook page: Orange County Tourism NY. It's a fabulous guide to up-to-the-minute postings of area events and activities, great times, and memorable experiences available to visitors.
Also visit Orange County Tourism's innovative and user-friendly new website: www.orangetourism.org.
About Orange County Tourism
Orange County Tourism, based in Goshen, N.Y., is the county's tourism headquarters and a participant in the I LOVE NY program. A comprehensive listing of area attractions, lodging, and events can be found at www.OrangeTourism.org. For a free copy of the Orange County Travel Guide, e-mail tourism@orangecountygov.com or call 845-615-3860.