Camelback celebrated another epic winter with live music, grilling, and competitive events
Tannersville, Pa. (March 26, 2018) – Thousands of revelers attended the parking lot party at Camelback Resort this past weekend. This annual event – the largest of its kind in PA – celebrated another epic winter for the Poconos' premier adventure destination. The event included a full lineup of activities and entertainment that extended beyond the parking lot, including pond skimming, tailgate decorating and a cardboard box derby. All proceeds from the Parking Lot Party will benefit Hope for Hannah Rescue, a local animal shelter in Bartonsville, Pa.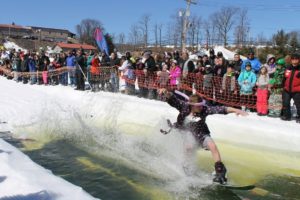 "We've had an awesome winter. Four nor'easters made for unprecedented skiing and snowboarding conditions," said Ame Cameron, VP of Sales and Marketing at Camelback Resort. "This year's parking lot party was epic – the weather was perfect; our guests had a blast and you couldn't beat the conditions. We still have two weeks of riding remaining with plans to start converting our base into PA's largest outdoor waterpark, Camelbeach, the second week in April."
The annual pond skimming contest brought out 80 brave (and slightly crazy) costumed skiers and riders as they attempted to successfully cross a frigid pond. All in the name of fun and in hopes of bringing home Camelback season passes for the best skim, best costume, and best splash! This year's winners were: Ryan Sinclair, Briana Cook and Daniel Felhamen.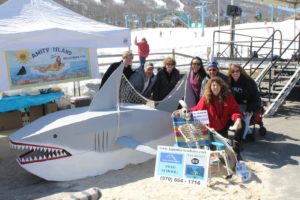 "I've wanted to get into this competition for a while, and I just decided this year was my year," said Alex Malinowski, also known by his skim competitor bib number, 26. "We have a condo next door, and this is one of the coolest Saturdays I've seen here all year – a real good time."
Tiki torches, wind dancers, corn hole, palm trees and even sand were among the sights to be seen at Camelback's tailgate party and contest. Partygoers enjoyed grilling; live music by M80, a multi-award-winning 1980s-era pop/rock cover band; games; activities, cook-off; raffles; and more as tailgate masters competed for Best Overall Tailgate, Best Theme and Decorations, Fan Favorite and Food Favorite awards. This year's winners were: Josh Nachtigall, Aquatics Academy, Joe Campan, Kriskas Crew and Terri Lutz.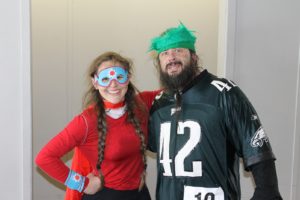 Every one of the 185 parking spaces for the tailgate judging contest sold out this year, with each $20 entry fee benefiting Hope for Hannah Rescue. Between the space fees, raffle tickets sold at the Hope for Hannah tent, as well as cash donations by guests, this year's event raised between $4,000 and $5,000 for the local dog rescue. Camelback has invited Hope for Hannah to participate in the annual end of the season event for the past seven years.
"Camelback has been a big supporter of ours for a long time. They always invite us to this event, which has become a vital fundraiser for our organization," said Kim Kerr, head of fundraising at Hope for Hannah. "We're so grateful for the support of the Camelback team; we couldn't do what we do without them."
The annual Cardboard Box Derby concluded the day as about 20 solo racers and sled teams careened down the mountain in contraptions made of little more than cardboard, paper, tape and glue! Tickets to Camelbeach were awarded for the most creative and fastest entries. This year's winners were: Aquatics Academy Swim School and The Tide Pod Racers.
Radio celebrities Greg T. from NY's Z-100 Elvis Duran and The Morning Show and Gary in the Morning from Pocono 96.7 were on-site to celebrate with live music, grilling and raffles. Both emceed the day's events, while Greg T. also joined in the fun as a tailgate contest judge and a cardboard box derby participant.
About Camelback Resort
Camelback Resort continues to reinvent itself since opening in 1963 with 14 trails and three lifts serving 41,656 skiers. Today Camelback serves more than 1.7 million outdoor enthusiasts and visitors annually with 37 trails, 16 lifts, 100% snowmaking, the largest snowtubing park in the U.S.A. and the after-dark Galactic Snowtubing, Camelback Mountain Adventures (featuring the only mountain coaster in Pa., and North America's longest twin 4,000 ft. Twin Zip-Flyers), Camelbeach Waterpark (the largest waterpark in Pa.) and Camelback Lodge & Aquatopia Indoor Waterpark.