Event raises awareness of tobacco-free spaces; encourages non-smoking policies
Goshen, N.Y. (June 6, 2018) – Students at John S. Burke Catholic High School organized a Chalk the Walk event on Thursday, May 31 to coincide with World No Tobacco Day, a yearly reminder that tobacco use is a leading cause of preventable death and disease worldwide, taking the lives of more than 7 million people each year. The event promoted awareness of creating tobacco-free outdoor spaces in Orange County, as well as the many health and environmental risks related to cigarette smoking.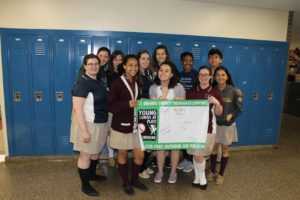 Nearly two dozen students, along with staff advisor and School Nurse Kathleen Kish, coordinated the event in partnership with Reality Check, an initiative of POW'R Against Tobacco, and funded by the NYS Department of Health's Bureau of Tobacco Control.
Makeda James, Reality Check Manager, returned to Burke Catholic to meet with Kish's contingent, where she led informational sessions at the school in March for Kick Butts Day. At that time, the students wrote letters to share their feelings on creating tobacco-free outdoor spaces with Orange County Executive Steven Neuhaus.
"We educate and mobilize youth groups around issues like tobacco-free outdoor air, smoke-free movie theaters and tobacco at the point of sale," said James. "Then, we provide subsequent opportunities for them to pass that education along to their peers, their student bodies and communities."
Rain kept this year's Chalk the Walk event indoors. The students got creative and unrolled a length of canvas paper to chalk their messages and tobacco stats along a school corridor – instead of a sidewalk – as the day ended, effectively delivering their messages to fellow students, the faculty and staff.
"I am so proud of how this group is leading by example," said Kish. "They are putting messages in front of their peers not to smoke or start smoking, and that is such a big message. Plus, our administrators are on board, our guidance counselors; everyone at Burke is on board and supportive of my group."
A banner signed by the students at the Chalk the Walk event will also be delivered to County Executive Neuhaus's office, and features a statistic taken from a recent POW'R Against Tobacco survey administered in Orange County.
"It states that Orange County residents support stronger tobacco free outdoor air policies by a measure of 4 to 1," said James. "That means protecting our playgrounds and recreation areas; creating more spaces where people can go and breathe clean, fresh air."
About POW'R Against Tobacco & Reality Check
Since 1992, POW'R has promoted and educated the public about tobacco-free communities and the harmful effects of tobacco use in Putnam, Orange, Westchester, and Rockland counties. The American Lung Association of New York State, Inc. is a founding member and fiscal agent for POW'R Against Tobacco. POW'R Against Tobacco is excited to present leaders of a tobacco free generation, the Hudson Valley Reality Check. For more information about Reality Check, please visit us at www.realitycheckofny.com
To learn more about John S. Burke Catholic High School, visit www.BurkeCatholic.com.