State Police School and Community Outreach Coordinator Craig Vedder offers deep dive into twin problems that can embroil teens
GOSHEN, N.Y. (March 14, 2018) – John S. Burke Catholic High School students and teachers packed the gym on Monday to listen to a riveting presentation on the potential dangers of social media and drugs.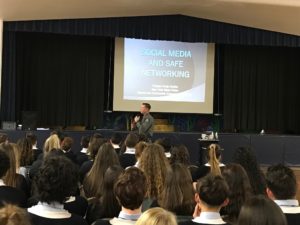 Wishing to be proactive, Burke Catholic High School invited Trooper Craig Vedder, a New York State Police School and Community Outreach Coordinator, to talk to students about the pitfalls of social media and the danger of drugs. Vedder's work takes him to schools across Orange, Sullivan, Ulster, Rockland and Greene counties.
Vedder offered students a deep dive into the omnipresence and longevity of social media. Poorly thought out social media posts can come back to bite, threatening jobs and relationships, he told students. He also cautioned against online bullying and sexting as those could potentially be felonies.
His messages were simple but powerful: treat yourself and others with respect; do not post your life online; what is posted on the internet lives forever; written words can be hurtful; don't post something you wouldn't have the courage to say in person; bullying makes you a target; and people are looking at you – always.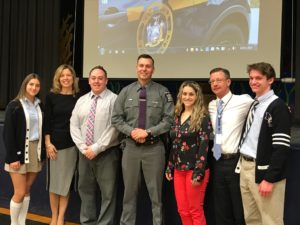 Ashley Debski, an 11th grader at Burke Catholic, said the talk had changed her perspective on every-day life.
"I thought it was an amazing presentation," said Debski. "It opened my eyes and showed me how careful I have to be. It showed me why we should make good choices."
Vedder also spoke extensively on drug use. He cautioned against trying drugs for "fun" because it could lead to addiction and also because the provenance of drugs is always suspect. He highlighted the risk of opioid addiction from prescription drugs.
Daniel Gandt, a senior, said he really liked the presentation.
"I learned things about addiction that I wasn't aware of – that drug dependence can escalate from simple things," said Gandt. "I was also shocked to learn how many people are addicted to prescription drugs."
A somber portion of the morning was a talk by Randi Kelder, a Kingston native whose brother died of a drug overdose. Her first-hand account of how drugs can impact a family resonated deeply with students.
District Attorney David Hoovler, a Burke Catholic parent, listened to the presentation from the back of the gym. He later spoke to students.
"Think before you hit the button," said Hoovler. "Don't make a bad decision about drugs. The best way not to get involved is not to do it in the first place."
Hoovler praised Burke Catholic administrators for inviting Vedder.
"They are proactive, they are at the forefront," said Hoovler. "I credit all the people who lead the school. They are doing the right thing."
Christa Hoovler, a Burke Catholic parent and Prevention Educator for the Alcohol and Drug Abuse Council (ADAC) of Orange County, also attended with her team to answer questions and hand out information to all of the students.
John Douthit, principal for operations, and Janice Clark, principal for academics, said they were pleased with the presentation and the students' response. Such talks will become a recurring event, Douthit said.
"We really want to make this a safe place for you," Clark told the students. "I hope you learned something today."
"We proactively want to make sure children are aware of the potential dangers they face," Douthit said later. "We care. They are not alone."
To learn more about John S. Burke Catholic High School, visit www.BurkeCatholic.com.