Andrew Curtis raised $3,500 and walked at Saturday's Walk to Cure Arthritis
Goshen, N.Y. (May 10, 2018) – Burke Catholic Senior Andrew Curtis was diagnosed with Juvenile Idiopathic Arthritis at age two. He doesn't remember what life was like before his diagnosis, but he also doesn't let the disease define him.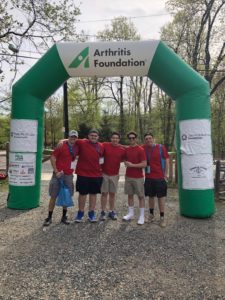 A strong, healthy teenager and member of the Burke Catholic High School varsity football, swimming and golf teams, Curtis is an inspiration to others living with arthritis. And on Saturday, the Arthritis Foundation honored Curtis as its Champion of Yes at the Walk to Cure Arthritis in West Orange, N.J.
Speaking before more than 1,000 walkers gathered from the tristate region, Curtis encouraged parents of children with arthritis to always encourage them to try.
"Even if you're afraid your child might get hurt, let them try sports. We're strong, stronger than you think," Curtis told the crowd. "I can't thank my family enough for telling me I could do anything and never holding me back!"
Curtis raised $3,500 for the cause. He was joined at the walk by family members along with his friends from Burke Catholic who made the trip to support him.
In the fall, Curtis will be pursuing a doctor of pharmacy degree at Albany College of Pharmacy and Health Sciences.
"I hope to be part of the team that finds cutting-edge medications and maybe even a cure for arthritis," said Curtis.
To learn more about John S. Burke Catholic High School, visit www.BurkeCatholic.com.