12 BC student athletes officially commit to play at their respective colleges.
Goshen, N.Y. (May 22, 2018) – John S. Burke Catholic High School held a college signing celebration recently to recognize the many student athletes who will be competing in their sport at the next level. Twelve students who will graduate later this month were celebrated in front of their family, friends, teammates and coaches gathered in the Burke Catholic gymnasium.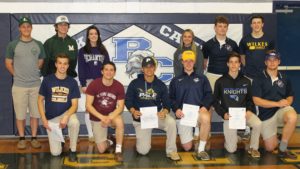 Burke Catholic Athletic Director Adam Kless commended the students for their hard work and dedication and told them they will always have a home in the Eagles Nest.
"You have made a positive impact on your teams and your school as a whole, and we celebrate with you today," said Kless. "We know that you will continue to do great things wherever you land but will forever be a Burke Catholic Eagle."
Honored on Thursday at the signing ceremony were:
Heath Hoovler, Football, Wilkes University
Mark Przybocki, Track & Field, University at Buffalo
John Zick, Cross Country, Wilkes University
Jessica Leatherbarrow, Soccer, University of Scranton
Nelson Arroyo, Baseball, Pace University
David Ross, Football, Western Connecticut State University
Shannon Pullar, Lacrosse, University of Scranton
Michael Chiarito, Baseball, LeMoyne College
Collin Shust, Soccer, Ithaca College
Connor Doyle, Soccer, Mount Saint Mary College
Vincent D'Auria, Baseball, Marywood University
Matthew Ehret, Sprint Football, St. Thomas Aquinas College
Picture features: Front (left to right): John Zick, Matthew Ehret, Nelson Arroyo, Collin Shust, Connor Doyle, Mark Przybocki Back (left to right) Michael Chiarito, Vincent D'Auria, Jessica Leatherbarrow, Shannon Pullar, David Ross, Heath Hoovler
To learn more about John S. Burke Catholic High School, visit www.BurkeCatholic.com.