PORT JERVIS, N.Y. (Feb. 20, 2018) – Robert A. Onofry, long-time Port Jervis resident and current Orange County Surrogate Judge, announced today that he will seek re-election and a second term as Orange County Surrogate.
"I am very excited about the prospect of serving a second term as Orange County Surrogate and for an opportunity to continue to serve both the legal community and the people of Orange County," said Onofry. "Since my election in 2008, I believe I have grown as a jurist. I have had the privilege of presiding over thousands of cases. The depth and breadth of that experience has enabled me to better serve the members of the Bar and the residents of Orange County. In discharging my judicial duties, I pride myself on treating all those who come before me in an objective and impartial manner that not only focuses on the quality of the judicial work performed, but reflects on my obligation and commitment to the community."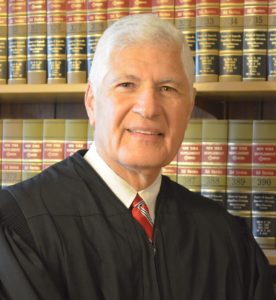 Onofry's distinguished judicial career is well known and respected in the Hudson Valley. He was elected Orange County Surrogate Judge in November of 2008 after 32 years in private practice and after having served 12 years as Port Jervis City Court Judge and as Acting Court Judge for both the cities of Middletown and Newburgh, by special assignment from the Office of Court Administration. In January of 2009, within days of assuming office, he was appointed Acting Supreme Court Justice for the Ninth Judicial District – Orange County Civil IAS Trial part – where he has shared civil trial duties for nine years with the four full-time Orange County Supreme Court Justices.
In a reflection of the confidence and respect he engenders, Onofry was appointed Acting Surrogate Court Judge for Westchester County in July 2015 to assist in the oversight, management and disposition of the Westchester County caseload. He continues to serve in the dual capacity of Orange County Surrogate Court Judge and Acting Surrogate for Westchester.
Over the years, Onofry has issued thousands of decisions and opinions in a variety of practice areas, many of which have not only been published, but have received approval and affirmance from the appellate courts.
In September 2016, he was appointed Acting Supreme Court Justice for Nassau County for the specific purpose of presiding over, and bringing to closure, a complex and protracted case involving a multi-million-dollar nonprofit dissolution that involved multiple estates and parties. The case had garnered considerable adverse publicity and languished for nine years. Within nine months of his appointment, Onofry concluded the proceedings with a court-imposed settlement agreement that was hailed by public advocates as a "victory for court transparency."
Onofry is known throughout Orange County for serving both the legal community and the community at large. As an outgrowth of his judicial duties, he has conducted continuing legal education (CLE) seminars for the New York State and Orange County Bar Associations, for the West Point JAG officers and their legal staff, and he has welcomed college students interested in legal careers to his chambers to offer insight and opportunities to observe.
During his years in private practice, he served as pro bono legal counsel for the Port Jervis Little League and Pop Warner Football League, as Director (now Director Emeritus) of the Ingeborg A. Biondo Memorial Foundation for Children with Special Needs, and as a Director of the Community Foundation of Orange and Sullivan (CFOS). In December 2008, before assuming his duties as Surrogate Judge, he was recognized for 25 years of distinguished service to the Port Jervis City School District.
He continues to live in the City of Port Jervis with Linda, his wife of 45 years. Together they have raised four children, two of whom reside in the Port Jervis area.