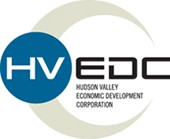 NEW WINDSOR, N.Y. (August 19, 2015) — Yonkers Brewing Co. and Peekskill Brewery, two local craft brewers in Westchester County, have joined the Hudson Valley Food & Beverage Alliance, a cluster initiative of the Hudson Valley Economic Development Corp. (HVEDC).
The Food & Beverage Alliance fosters collaboration between area food and beverage companies by providing access to critical economic and marketing resources. The organization is made up of businesses in every segment of the industry, including farmers, manufacturers and distributors, and ranging from major national corporations to rising local brands.
"Craft beer is the Hudson Valley's fastest-growing segment within the regional food and beverage industry, thanks to businesses like Yonkers Brewing Co. and Peekskill Brewery," said Laurence P. Gottlieb, president and CEO of HVEDC. "In addition to offering quality products, these two brewers are also leading the way in the larger revival of their communities' waterfronts. It's precisely this sort of community-centered development that will continue to drive economic growth in the Hudson Valley."
Yonkers Brewing Co. has been offering its craft beers for purchase since 2013. Following a successful Kickstarter campaign, the company was able to build its new tasting room, which opened in January in historic downtown Yonkers. The company aims to bring the community together by balancing the comfort of everyday beers with the attention to detail and locally sourced ingredients more common among craft beers.
Co-founder John Rubbo is excited about his company's membership in the Alliance.
"As a younger craft brewery, we're eager to take advantage of the networking opportunities the Alliance can offer," he said. "Being able to contribute to the success of other companies in the area helps make the whole community stronger, and we're excited to be part of the growth."
Peekskill Brewery opened its riverfront brewpub in 2008. The company expanded and moved into a larger space down the street four years later, with a first-floor tap room and a restaurant upstairs allowing visitors to enjoy any of the more than a dozen brews on tap. In addition to receiving favorable reviews in national publications, the company has won silver medals at each of the last two Great American Beer Festivals.
Kara Berardi, Peekskill Brewery's managing partner and marketing director, is enthusiastic about the opportunities offered by Alliance membership.
"When we opened seven years ago, we couldn't have predicted the growth and expansion we've already enjoyed," she said. "Joining the Food & Beverage Alliance gives us an opportunity to put some of our experience and knowledge to use helping other businesses in the area, as well as the chance to learn from our peers. It's very exciting for our company."
About Yonkers Brewing Co.
Yonkers Brewing Co. specializes in creating quality, handcrafted beer. Located in the last remaining trolley barn in Westchester County, the company prides itself on its strong commitment to the local community. To learn more, visit http://yonkersbrewing.com.
About Peekskill Brewery
Peekskill Brewery is an award-winning brewpub located on the riverfront in Peekskill, N.Y. Committed to craft in every aspect of its business, the company aims to deliver authentic, high-quality products in an inspired atmosphere. To learn more, visit http://www.peekskillbrewery.com.
About the Hudson Valley Food & Beverage Alliance
The Hudson Valley region boasts the most vibrant and growing base of food and beverage-related businesses in the nation. Alongside many well-known industry names and successful and growing industry players, the Food & Beverage Alliance brings organizations within the food and beverage industries together, helping area businesses forge strong partnerships. The alliance provides access to economic guidance and marketing resources to businesses throughout the region.
About Hudson Valley Economic Development Corporation (HVEDC)
HVEDC is the leading economic development agency for the seven-county region of Westchester, Putnam, Dutchess, Rockland, Orange, Ulster and Sullivan counties. The public-private partnership markets the region as a prime business location to corporate executives, site selection consultants and real estate brokers. HVEDC helped start the organizational, branding and promotional effort for NY BioHud Valley, Hudson Valley 3D Printing, Hudson Valley EDs & MEDs and the Hudson Valley Food & Beverage Alliance. To learn more, call 845-220-2244 or visit http://www.hvedc.com.