GOSHEN, N.Y. (April 10, 2014) – Lawrence Gordon, M.D., founder and CEO of WRS Health, a leading web-based provider of fully integrated EMR and practice management solutions for medical specialties, was recently featured as an panelist in Hudson Valley Economic Development Corporation's "The Next Big Thing: Digital Health," a forum to discuss one of the fastest-growing industries in the Hudson Valley.
At the conference on Thursday, March 20, Dr. Gordon took part in a panel discussion on the do's and don'ts of EMR software selection. The event attracted more than 300 regional business leaders, healthcare and technology executives, academicians, scientists, researchers, government officials and the media to Marist College in Poughkeepsie, N.Y.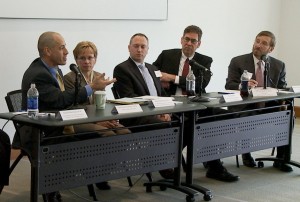 "The fusion of technology and health care is the new frontier of practice management and the transition to EMR could be the most important business decision practices ever make," said Dr. Gordon. "This event was a great opportunity to engage medical professionals and help them better understand how digital health can enhance their practice and ensure their practice's future vitality."
During the panel discussion, Dr. Gordon urged healthcare professionals to consider the following when implementing EMR software:
1) Have specific goals in mind when choosing EMR software. Whether it's increased patient engagement, better workflow or preparing your practice for the digital future, be sure to have a clear strategic vision for your decision to go digital.
2) Don't choose EMR for the wrong reasons. Going digital just to avoid penalties, obtain stimulus money or take notes is not sufficient use of your investment. Choose an EMR provider who will display a variety of benefits – patient portal, customizable templates or a billing system – that will enhance your practice and provide value.
3) Utilize all available training. Inadequate execution of proper training for staff could yield undesirable results in workflow and patient engagement. Utilize all available webinars and support technology in preparing your staff for the move to digital healthcare management.
4) Engage your EMR provider. An EMR system provider is more than a vendor. Be sure they have the tools necessary to be your partner in enhancing your practice. Choose an innovative, customizable platform to meet your practices specific needs, a responsive tech support infrastructure and a dedicated customer care team.
5) Stay the course. Making the transition from paper to electronic records is an investment of money and time. The transition period is critical to practice operations, as the staff is learning a new way to do business. Without strong leadership during this critical time, your investment may not yield the results you initially thought.
Part of a series of educational forums organized by Hudson Valley Economic Development Corporation, The Next Big Thing: Digital Health offered insights into one of the fastest-growing business segments in the world from a number of speakers on various topics related to digital healthcare, including the tools, resources and technologies that are making a positive impact on the US economy. Additional topics of interest included big data analysis related to the US healthcare system and bioinformatics, or how the pharmaceutical sector is leveraging digital health. For more information on the event and digital health efforts in the Hudson Valley, please visit www.hvdigitalhealth.com
About WRS Health
WRS Health, formerly Waiting Room Solutions, is the leading web-based provider of fully integrated EMR and Practice Management software solutions for over 32 medical specialties. WRS Health seamlessly integrates all of the clinical and business functions required for healthcare providers, including: Electronic Medical Records, Revenue Cycle Management, Personal Health Records, electronic prescribing (eRx), scheduling, website creation and content management, messaging, fax, order tracking, and billing — all at an affordable price. WRS Health is a Surescripts® Solution Provider for its web-based Electronic Medical Record (EMR) and Practice Management System (PM) V4.0. The EMR and PM V4.0 is Surescripts certified for prescription routing messaging. It has been designed and built by successful medical professionals, who leveraged their expertise to help other healthcare providers with similar issues. WRS Health continues to be recognized for its cutting edge technology. More information on WRS Health can be found at www.WRSHealth.com or by calling 1-866-WRS-4EMR.