Rotary President Amy Minutolo encourages community members to participate in healthy and fun way to give back this holiday season
MIDDLETOWN, N.Y. (November 20, 2017) – On Thursday, November 23, the Wallkill East Rotary Club will host its 5th annual Turkey Trot 5K race. The course will start and finish at the Galleria at Crystal Run, located at 1 Galleria Drive in Middletown, N.Y. This year's race will start at 8:00 a.m., with registration beginning at 6:45 a.m. inside the AMC Crystal Run mall entrance. Race proceeds will benefit the Wallkill East Rotary and the local causes supported by the organization.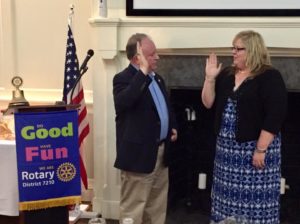 Turkey Trot races are traditionally held on the morning of Thanksgiving as a fun way to burn off calories before indulging in a Thanksgiving feast. Participants are encouraged to wear turkey hats or costumes. Runners and walkers are welcome, and the race will take place rain or shine.
"Participating in the annual Turkey Trot race is a great way to support local causes while engaging in a healthy activity and having fun," said Wallkill East Rotary President, Amy Minutolo. "We look forward to race day and would like to thank all those who have contributed to making this event a success."
This is Minutolo's first year as President of the Wallkill East Rotary. A long-time member of the organization, Minutolo is employed locally at Walden Savings Bank as an Area Retail Manager.
For more information about the Wallkill East Rotary, visit www.wallkilleastrotary.org. To learn more about this year's Turkey Trot race, or to register online, visit www.OrangeTurkeyTrot.com.
About Rotary
Rotary brings together a global network of volunteer leaders dedicated to tackling the world's most pressing humanitarian challenges. Rotary connects 1.2 million members of more than 35,000 Rotary clubs in over 200 countries and geographical areas. Their work improves lives at both the local and international levels, from helping families in need in their own communities to working toward a polio-free world. For more information, visit www.rotary.org.