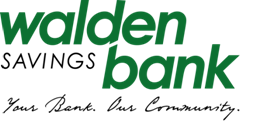 MONTGOMERY, N.Y. – As part of its ongoing mission to give back to the local community, Walden Savings Bank is pleased to announce its most recent Community Shredder Day, which will take place on Saturday, September 28, at its Gardiner branch.
Both customers and non-customers are invited to bring recyclable materials from 10 a.m. to 2 p.m. to the Gardiner branch, located at 2356 State Route 44/55 in Gardiner.
Items that can be shredded include: staples, paperclips, rubber bands and paper. Items that cannot be shredded include: accordion folders, three-ring binders, plastic-coated materials, binder clips and spiral notebooks. A limit of two to three boxes of materials per person is requested.
"Both our customers and local community are integral to Walden Savings Bank's success, and our Shredder Days are a small way of expressing our thanks," said President and CEO Derrik Wynkoop. "Not only does this event have a positive impact on the environment, but also allows us to inform the public of the importance of maintaining security when it comes to their confidential documents."
HB Data Security, headquartered in Beacon, will be on site during the September 28 event to shred and properly dispose of all materials.
Since its inaugural event in May 2012, Walden Savings Bank has held a number of Community Shredder Days at many of its 11 branches throughout Orange and Ulster counties.
For more information regarding Community Shredder Days, contact Joann Menendez at 845-457-7700 ext. 354 or joann.menendez@waldensavingsbank.com.
About Walden Savings Bank
Walden Savings Bank, established in 1872, is a federal chartered mutual savings bank headquartered in Montgomery, New York. With a total of 11 full-service branches serving Orange and Ulster Counties, the bank's progressive style of community banking provides products that cater to both the individual and the growing mid-size business. In addition, Walden Investment Services, located at Walden Savings Bank, offers personalized advice for financial planning. To learn more about the Bank and its products and services, visit www.waldensavingsbank.com.