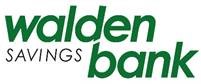 MONTGOMERY, N.Y. (October 21, 2016) – October is National Breast Cancer Awareness Month, and Walden Savings Bank joined the fight by finding creative ways to raise awareness and funds for this important cause. In total, $4,100 was raised and donated to the American Cancer Society by Walden Savings Bank to support the fight against breast cancer.
During October, President & CEO Derrik R. Wynkoop teamed up with several area businessmen and dignitaries as part of the Real Men Wear Pink campaign in the Hudson Valley. Real Men Wear Pink is a distinguished group of community leaders who choose to wear pink to help raise awareness and funds as part of this year's Making Strides Against Breast Cancer Walk.
While Wynkoop has made pink a part of his daily wardrobe, WSB staff wore pink during their Monthly Dress Down Day to show their support for the cause. During October the bank's headquarters in Montgomery is being illuminated in pink lights and monument signs have been adorned with five-foot Breast Cancer Awareness Ribbons.
"Our staff continues to come together to support our community," said Wynkoop. "I'm proud to take part in the fundraising event, but I am even more gratified when I see the amount of people from our WSB team and the community that have contributed to these efforts."
Hosted by the American Cancer Society, the Making Strides Against Breast Cancer Walk was held on October 16 at Woodbury Common Premium Outlets in Central Valley, N.Y. More than 10,000 people took part in the event and helped to raise $570,000. Walden Savings Bank was excited to once again participate in the Walk and oversee the collection and accounting of all the donations at the event.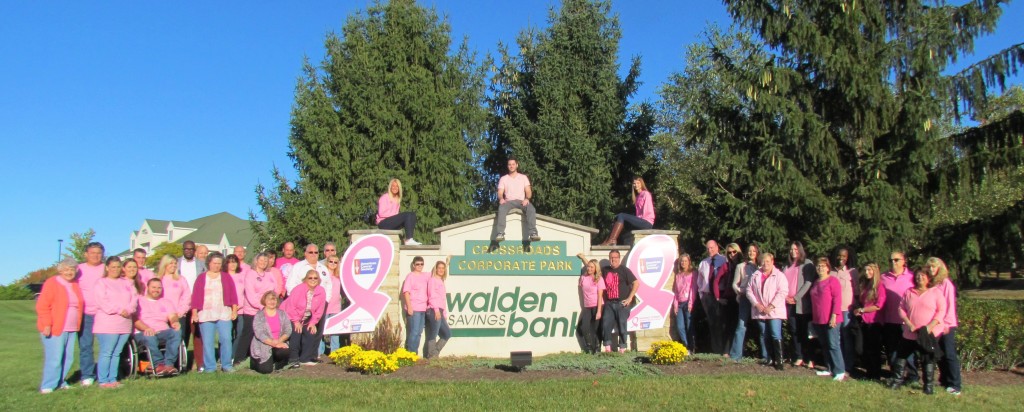 The Walden Savings Bank team stands beside the monument sign, which has been decorated with five-foot Breast Cancer Awareness Ribbons, at the Bank's Montgomery headquarters. The staff are dressed in pink in support of National Breast Cancer Awareness Month.
About Walden Savings Bank
Walden Savings Bank, established in 1872, is a federal chartered mutual savings bank headquartered in Montgomery, New York. With a total of 11 full-service branches serving Orange and Ulster Counties, the Bank's progressive style of community banking provides products that cater to both the individual and the growing mid-size business. In addition, Walden Investment Services, located at Walden Savings Bank, offers personalized advice for financial planning. To learn more about the Bank and its products and services, visit their website at www.waldensavingsbank.com