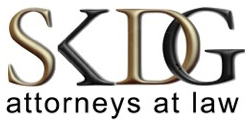 NEW YORK, N.Y. (June 10, 2014) – Saretsky Katz Dranoff & Glass (SKDG), a premier Manhattan law firm, announced today that C. Scott Vanderhoef has joined the firm.
Vanderhoef comes to SKDG after completing one of the most distinguished political careers in recent New York State history. He served as the Rockland County Executive for 20 years before retiring from the post last December. His electability as a Republican in Rockland, one of the state's Democratic strongholds, helped him gain the reputation statewide as an authoritative, bi-partisan leader and executive. Prior to serving as County Executive, he practiced as an environmental law attorney and served in the administrations of Governors Nelson A. Rockefeller and Malcolm Wilson as a staff member responsible for program administration in the Executive Chamber.
In addition to his work as County Executive, Vanderhoef has been one of Rockland's most dynamic and impactful civic leaders over the last four decades. He has held high-ranking leadership roles with Leadership Rockland, Inc. (Founder/Chair), Rockland County Association (President), Ramapo Central School District (School Board President), Good Samaritan Hospital Foundation (Board of Governors) and St. Thomas Aquinas College (Board of Trustees). He has received honorary degrees from St. Thomas Aquinas College (Doctor of Humane Letters) and Dominican College (Doctor of Laws).
"Scott's extraordinary career in public service coupled with his law background gives him an uncommon level of insight and expertise that will help provide great value to our diverse portfolio of clients," said Alan Katz, one of SKDG's founding partners.
"The opportunity to work with the talented team at SKDG is very exciting," said Vanderhoef. "This new chapter of my career will allow me to pursue my two professional passions – law and government. SKDG has an outstanding reputation and I am committed to sustaining the firm's high level of client service and quality in every assignment."
Katz said Vanderhoef will provide clients with strategic advice in matters relating to governmental affairs and public policy, including election law, state and local procurement issues, union negotiation, public record issues, Open Public Meeting Act issues, bidding issues, local government ethics, utility franchising and the use of public rights of way.
"Scott boosts our firm's capabilities and strengthens SKDG's position in this competitive area of law," said Katz. He also will provide mediation and arbitration services.
ABOUT SKDG
Founded in 1994, SKDG provides representation in Appellate Practice, Business & Commercial Disputes, Business Transactions, Captive Insurance Companies, Civil Rights Defense & RLUIPA, Commercial Real Estate Transactions, Employment Practices, Industrial Development Agency Benefits & Finance, Insurance & Reinsurance Coverage & Litigation, Insurance Policy Preparation, Municipal Liability, Products Liability and Tort Defense Litigation. The firm provides experienced advocacy to resolve business disputes and manage commercial risks. Based upon confidential reports obtained from judges and lawyers, SKDG has earned an "AV" rating from The Martindale-Hubbell Law Directory – the highest rating for legal ability, faithful adherence to ethical standards, professional reliability and diligence. SKDG is also listed by A.M. Best Company in Best's Directory of Recommended Insurance Attorneys. SKDG attorneys have also been selected to the New York Metro Super Lawyers. The firm is based in Manhattan and also operates an office in Piermont, N.Y. Visit the firm's Web site at www.skdglaw.com