Sit back, relax, and enjoy the show at Orange County holiday performances
ORANGE COUNTY, N.Y. (December 5, 2017) – Like Santa's bag of toys, the Hudson Valley is filled with holiday entertainment treats for all ages. Celebrate the season at a variety of shows. Be dazzled by the dance of Sugar Plum Fairies or the thrilling moves of theatrical acrobats cloaked in holiday costumes. Be lifted by the sounds of classic choirs or relax to live jazz renditions of holiday favorites. Whether you're a local resident or traveling from afar to find the perfect tree, Orange County, N.Y. is your one-stop-shop for holiday fun.
"'Tis the season for holiday-themed getaways to Orange County," said Orange County Tourism Assistant Mary Ann McCarthy. "With more than 20 tree farms, wonderful shopping outlets, unique downtown shops, theatres, wineries, breweries and farm-to-table restaurants, there's no shortage of things to do this holiday season."
Some upcoming Orange County holiday shows include: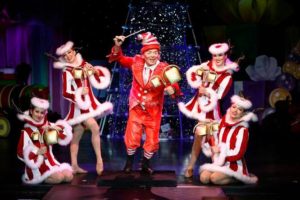 Be sure to visit Orange County Tourism's Facebook page: Orange County Tourism NY. It's a fabulous guide to up-to-the-minute postings of area events and activities, great times, and memorable experiences available to visitors.
Also visit Orange County Tourism's innovative and user friendly new website: www.orangetourism.org.
Photo: Scene from Cirque Dreams Holidaze
About Orange County Tourism
Orange County Tourism, based in Goshen, N.Y., is the county's tourism headquarters and a participant in the I LOVE NY program. A comprehensive listing of area attractions, lodging, and events can be found at www.OrangeTourism.org. For a free copy of the Orange County Travel Guide, e-mail tourism@orangecountygov.com or call 845-615-3860.