Orange County, N.Y. offers a central location to stay while visiting Hudson Valley attractions
ORANGE COUNTY, N.Y. (October 22, 2015) – Just 50 miles from New York City, Orange County, N.Y. is an ideal destination for an overnight or weekend getaway. From historic inns to family-friendly suites, Stay With Us hotels provide visitors a way to take in many Hudson Valley sites while spending their nights in one central location.
"From antique shops to breweries and cideries, there's so much to do and see in Orange County, N.Y.," said Orange County Tourism Director Susan Hawvermale. "An overnight or weekend stay allows visitors to take in multiple destinations and really experience the flavor of the region."
Stay With Us premiere hotels include: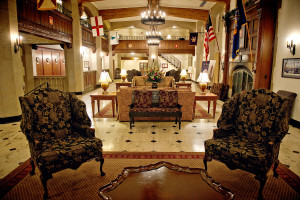 The Thayer Hotel: With commanding views of the Hudson River and the United States Military Academy, The Historic Thayer Hotel at West Point has been a celebrated part of American history since 1926. 674 Thayer Road, West Point, N.Y.  www.thethayerhotel.com
Bear Mountain Inn: A gem in the Hudson Valley, the Bear Mountain Inn and Overlook Lodge are the perfect retreat from the city while soaking up the very best of Bear Mountain State Park. 3020 Seven Lakes Drive, Bear Mountain, N.Y. www.visitbearmountain.com
Comfort Inn & Suites: This family-friendly hotel is conveniently located near the crossroads of Interstate 84 and Route 17, providing easy access to the area's top attractions, including Woodbury Common Premium Outlets. 20 Hatfield Lane, Goshen, N.Y.
Hampton Inn: Set in the center of the Hudson Valley, this 127 room hotel is convenient to popular attractions including the Harness Racing Museum and within walking distance of four restaurants. 20 Crystal Run Crossing, Middletown, N.Y.
Courtyard by Marriott: This award-winning Marriott hotel makes the attractions and local businesses of Goshen and the rest of New York's Hudson Valley region easily accessible. 24 Crystal Run Crossing, Middletown, N.Y.
Homewood Suites by Hilton: Located within Stewart International Airport, this all-suites hotel is just two minutes from the main airport terminal. It's also in close proximity to attractions such as the U.S. Military Academy at West Point and Orange County Choppers. 180 Breunig Road, New Windsor, N.Y.
To learn more about "Stay With Us" lodging with direct links to the properties, visit: www.orangetourism.org/stay-with-us.
Be sure to visit Orange County Tourism's Facebook page: Orange County Tourism N.Y. It's a fabulous guide to up-to-the-minute postings of area events and activities, great times, and memorable experiences for visitors.
Also, visit Orange County Tourism's new website: www.orangetourism.org. 
About Orange County Tourism
Orange County Tourism, based in Goshen, N.Y., is the county's tourism headquarters and a participant in the I LOVE NY program. A comprehensive listing of area attractions, lodging, and events can be found at www.OrangeTourism.org. For a free copy of the Orange County Travel Guide, e-mail tourism@orangecountygov.com or call 845-615-3860.