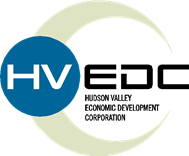 NEW WINDSOR, N.Y.  (Dec. 1, 2015)— Chester-based Satin Fine Foods, a world-leading manufacturer of fondant, distributing to over 60 countries worldwide, has become the 75th member of the  Hudson Valley Food & Beverage Alliance, an award-winning cluster initiative of the Hudson Valley Economic Development Corp. (HVEDC). Satin Fine Foods' product, Satin Ice Rolled Fondant, is featured regularly on popular television shows including Cake Wars, Cupcake Wars, Sweet Genius, Ultimate Cake Off, Sugar Dome and others.
The Food & Beverage Alliance focuses on helping area food and beverage companies work together as strong partners and market their products nationwide. The organization includes food businesses, manufacturers, farmers, vegetable growers, beverage makers, distributors, academic institutions and other industry organizations.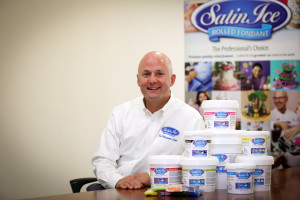 "As you grow, you meet a lot of professional people on a day-to-day basis," said Satin Fine Foods President and CEO Kevin O'Reilly. "This is a growing community. It's great to have that 'club' that we can all rally around and communicate through. It's kind of like the glue that keeps us together. It makes sense to be a part of the Alliance, to keep and stay in touch. It's good for outreach."
HVEDC President and CEO Laurence P. Gottlieb said reaching this membership milestone in only four years' time shows how important the Alliance is within the Hudson Valley region, and reinforces how relationships and partnerships enhance the area's commerce.
"It's an honor for us to have Satin Fine Foods become the Hudson Valley Food & Beverage Alliance's 75th member," said Gottlieb. "Satin Fine Foods is a global leader and food pioneer, so knowing that the company's founder, Kevin O'Reilly, feels joining the Alliance will help his company further grow and expand is a sure sign we are having a positive impact on the regional economy."
O'Reilly added: "We're all learning. We all need new ideas. We need to reach out when we don't have answers. I would encourage any company to be a part of this group."
In the culinary arts world, the word "fondant" can refer to one of two types of sugar-based pastes used in preparing and decorating cakes, pastries and confections. Cakes covered in fondant have a beautiful, smooth and almost porcelain-like appearance. Fondant can be sculptured or textured to resemble almost anything imaginable. However, when most cake decorators refer to fondant, they are referring to rolled fondant. Like poured fondant, it is made of the same ingredients with the addition of gelatin and shortening, which forms it into a dough that can be rolled, cut and shaped into almost any decoration.
Satin Fine Foods' rolled fondant product's quality and market share dominance is exemplified in its partnerships with The Culinary Institute of America, The French Culinary Institute and The Institute of Culinary Education. The company conducts or participates in hundreds of demonstrations, cake shows and workshops every year.
About Satin Fine Foods
Established in 2001, Satin Fine Foods developed the Satin Ice range of products to satisfy the demands of the best cake artists in the world. Its premium quality fondant gives cake artists the greatest workability, consistency and taste. The company has grown to be a world-leading manufacturer of Satin Ice fondant distributing to over 60 countries worldwide. Satin Fine Foods is a passionate and innovative manufacturer and highly respected in the international baking industry. Satin Ice hosted its first annual trade show in September 2015: The Americas Cake & Sugarcraft Fair. To learn more, visit: http://www.satinice.com/. 
About the Hudson Valley Food & Beverage Alliance
The Hudson Valley region boasts the most vibrant and growing base of food and beverage-related businesses in the nation. Alongside many well-known industry names and successful and growing industry players, the Food & Beverage Alliance brings organizations within the food and beverage industries together, helping area businesses forge strong partnerships. The alliance provides access to economic guidance and marketing resources to businesses throughout the region.
About Hudson Valley Economic Development Corporation (HVEDC)
HVEDC is the leading economic development agency for the seven-county region of Westchester, Putnam, Dutchess, Rockland, Orange, Ulster and Sullivan counties. The public-private partnership markets the region as a prime business location to corporate executives, site selection consultants and real estate brokers. HVEDC helped start the organizational, branding and promotional effort for NY BioHud Valley, Hudson Valley 3D Printing, Hudson Valley EDs & MEDs and the Hudson Valley Food & Beverage Alliance. To learn more, call 845-220-2244 or visit http://www.hvedc.com.