Rolling V Bus Corp., a Sullivan County-based bus transportation company, is proud to announce the rubber has hit the road on its propane-powered school bus – the first of its kind in Sullivan County.
"We are not only looking forward to taking advantage of the gasoline savings, but we are also proud to be utilizing cleaner fuel and helping the environment," said Rolling V Safety Director Ken Engle. "It's a great milestone for us and most definitely not the last propane vehicle in our fleet if the efficiency and cost savings claims prove out."
The 2015 Bluebird Vision, which seats 65 children, is fueled by liquid propane – a safe, clean, affordable alternative to traditional gasoline. The state-of-the-art transportation bus boasts similar gas mileage ratings as a traditional gasoline bus, but with the cost of propane at an average of $2.75 per gallon versus $3.65 per gallon of gasoline, the savings are immediately realized. Certified by the U.S. Environmental Protection Agency, this vehicle is an environmentally-friendly model for the future of pupil transportation.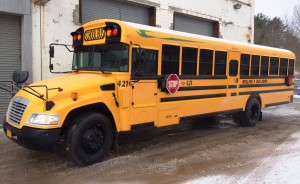 Rolling V President Phil Vallone added, "Rolling V is extremely dedicated to the safety and security of the school districts and the children they serve. This is another fine example of utilizing technology to make this region – and the United States – a safer, cleaner place to live, work, and raise a family. We are hopeful the efficiencies extolled by the propane industry are true. We would love to expand our fleet using this fuel type if it makes good business sense, as well as social sense."
Rolling V Bus Corp. is a proud member of the New York School Bus Contractors Association and the American School Bus Council. The company is family-owned and operated by the Vallone and DeSabato families. The Vallone Family has been in the passenger transportation business for more than 50 years.