Transportation company helps feed local families this holiday season
South Fallsburg, N.Y. (December 22, 2017) – In an effort to give back this holiday season, Rolling V Bus Corp., a Catskill Region-based school bus transportation company, has provided free-range turkeys to its employees. Rolling V employees had the opportunity to donate the turkeys to local not-for-profit organizations, including Family of Ellenville Food Pantry, St. Andrew's Mission Food Pantry, the Sullivan County Federation for the Homeless, and Walton Food Pantry.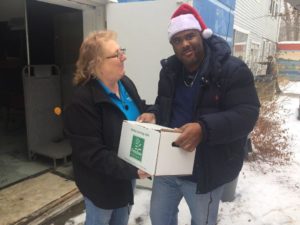 "Rolling V actively supports the communities we serve throughout the year, through a variety of philanthropic initiatives," said Phil Vallone, Rolling V President. "We couldn't think of a better way to celebrate the holiday season than by helping to feed our hungry neighbors."
Hunger remains a serious problem in the region. According to the Regional Food Bank of Northeastern New York, nearly 20% of New York State families live in or near poverty. Single-parent families, elderly people living on fixed incomes, low-wage workers, and disabled community members all need assistance to assure they will not go hungry.
"Every family deserves to share in the joys of the holiday season," Vallone added. "I am thrilled that our employees were able to help make a difference in the lives of those affected by hunger."
For more details about Rolling V, including its services and employment opportunities, visit www.rollingv.com.
About Rolling V Bus Corp.:
Rolling V Bus Corp. provides full service school bus, charter bus and car services throughout the Catskills and New York City. Rolling V is a proud member of the New York School Bus Contractors Association and the American School Bus Council. The company is family-owned and operated by the Vallone and DeSabato families. The Vallone Family has been in the passenger transportation business for more than 50 years.