Two other information sessions will be held in Orange and Sullivan counties
ROCK HILL, N.Y., (August 9, 2017) – Resorts World Catskills hosted a dealer school information session August 7 for people interested in becoming table game dealers at the Resorts World casino.
More than 250 people attended the event held at Ramada at the Sullivan Event Center on Rock Hill Drive. Executives from Resorts World Catskills and its parent company, Empire Resorts, provided updates on the resort casino project, table game dealing as a career, the training required to become a dealer, and how to enroll in the free Casino Dealer School opening in Monticello on Aug. 21.
Two other dealer schools will open in in Orange and Ulster counties in the coming weeks. Information sessions for those schools will be held at the following locations and times.
Orange County
When: 7 p.m., Monday, Aug. 14
Where: Orange County Emergency Services Center, 22 Wells Farm Road. Goshen
Ulster County
When: 7 p.m., Wednesday, Sept. 6
Where: Ellenville High School Auditorium, 28 Maple Ave., Ellenville
Charles A. Degliomini, Executive Vice President of Empire Resorts, Inc., informed attendees that Resorts World Catskills expects to hire approximately 600 dealers prior to opening its doors to the public in March 2018[1]. In addition to the casino, the resort complex will include an entertainment village, a golf course and a water park.
"The construction is real, it's on target and the casino resort will open in March as planned," said Degliomini, providing an overview of the property and showing images of the progress in construction. "For years the casino has been a dream. That dream is now being realized as we begin to train local residents for real jobs that will begin in the coming months."
The resort casino is being built to a five-diamond standard and will operate at the highest level of luxury and refinement, drawing visitors from the region, the country and around the world, said Degliomini.
Executive Director of Table Games Jack Kennedy explained how dealing has become a profession that offers domestic and international opportunity and an excellent chance for advancement.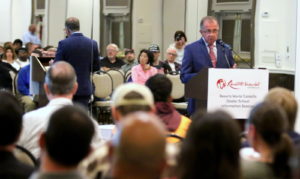 "It's an exciting and rewarding career," said Kennedy. "As a dealer, you get to play a game for a living. It's a lot of fun. With the right company and the right mind set, it has great potential for advancement."
John Collins, Table Games Shift Manager, recommended prospective students become adept at least two core games such as blackjack, poker, baccarat and roulette. Each core game requires about 120 hours of training over several weeks.
"Dealers must know all the rules and odds of each game learned as if it were second nature," he said. "We also start teaching guest services skills from Day 1."
Vice President of Human Resources Fran Kneisc provided a detailed glide path for students who sign up for classes. Once training is successfully completed, students will have to interview and audition for table game dealer positions, she said. Once they have an offer of employment and acquire a New York State gaming license, they will be formally employed by February.
About Resorts World casino
Beautifully situated in the pristine Catskills, Resorts World Casino is part of a $1.2 billion four-season destination resort being developed in the Town of Thompson in Sullivan County, approximately 90 miles from New York City. Resorts World Catskills branded resort casino will include an 18-story casino, hotel and entertainment complex with approximately 100,000 square feet of casino floor, over 100 table games, 2,150 state of the art slot machines, a poker room and private gaming salons. Guest amenities will include 332 all-suite luxury rooms, which include 12 penthouse suites, 8 garden suites and 7 two-story villas, two indoor pools, a spa and fitness center — all designed to meet 5-star and 5-diamond standards. Guests will be able to choose from over 10 varied bar and restaurant experiences, including fine dining, and an Italian steakhouse created by celebrity chef Scott Conant. Guest can also enjoy year-round live entertainment at the over 2,000-seat event center, casino bars, restaurants and lounges.
Expected to open in March 2018, the destination resort in which Resorts World Catskills is located, will also include an entertainment village providing additional entertainment, food and accommodations, and a Rees Jones-redesigned golf course. In addition, the destination resort will include an indoor waterpark lodge.
Please visit https://rwcatskills.com/ for more information about the resort casino.
If you or someone you know needs help, help is available. Call 1-877-8-HOPENY or Text HOPENY (46769).
[1] Pending NYSGC approval.