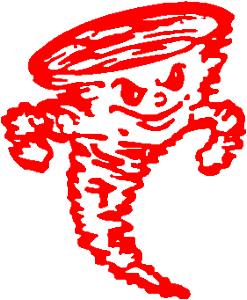 Students interested in transferring to Baker will experience a typical school day and interact with students
TUXEDO, N.Y. (Jan. 25, 2016) —  Students interested in transferring to the Tuxedo STEM Academy at George F. Baker High School are invited to register for the school's Feb. 8 "Tornado for a Day" Program.
"Students will experience a typical day at Baker," said Principal Jason Schrammel. "You'll be accompanied by a Tuxedo ambassador throughout your visit which includes visiting classes, meeting students and faculty and dining with students."
Schrammel said the program would be extremely useful because it gives prospective students a real and honest look at a normal Baker day.
"We want to show new students all the great things at Tuxedo," said Schrammel.  "This small school environment does make a positive difference in the success of all of us here."
Parents will drop off visiting students at the building's entrance where they will be greeted by ambassadors and faculty members who will escort them during their visit.
A complimentary lunch will be provided.
The daylong event runs from 8 a.m. to 2:50 p.m. Students should arrive at 7:50 a.m.
Reservations must be made no later than Feb. 3.
To learn more or make a reservation, call the Tuxedo STEM Academy Admissions Office at 351-4799.
About the Tuxedo Union Free School District
The Tuxedo Union Free School District is a K-12 school district located at the southernmost tip of Orange County, near Sterling Forest and Harriman State Park. The George Grant Mason School is the district's K-6 school and was named a 2015-2016 New York State Reward School, which recognizes schools that have made the most progress or have the highest achievement statewide with no significant gaps in student achievement. George F. Baker High School is home to students in grades 7 to 12. The district's mission is to engage students in the pursuit of knowledge for academic success, productive citizenship and the development of personal potential in a diverse and changing world, while offering opportunities for real life experience in a safe and secure learning environment meeting every student's individual needs. For more information, visit: http://tuxedoufsd.org.