Festivals, fireworks and music highlight Independence Day happenings.

ORANGE COUNTY, N.Y. (June 14, 2016) Located just 50 miles from New York City, Orange County, N.Y. is the destination of choice for summer getaways. And there's no better time to head up to the Hudson Valley than 4th of July weekend.
"All of Orange County turns into Hometown USA with spectacular fireworks and celebrations in the days surrounding the 4th," said Orange County Tourism Director Susan Hawvermale. "Bring the whole family and come be a part of these sparkling festivities."
Some 4th of July events sure to get visitors in the patriotic spirit are:
Great American Weekend: Saturday, July 2, 2016 from 9:00 a.m. to 5:00 p.m. and Sunday, July 3, 2016 from 10:00 a.m. to 5:00 p.m. at Goshen Village Green, 33 Park Place, Goshen. Annual 2-day celebration featuring over 150 craft vendors, antiques, exhibits, live entertainment, 5K/10K race, children's rides, food vendors and hat contest. GoshenNYchamber.com
Grand Circuit Racing: Friday, July 1, Saturday July 2, 2016 and Sunday, July 3, 2016 at 1:00 p.m. at Goshen Historic Track. The annual Hall Of Fame Trot with various members of Harness Racing's Hall of Fame at the controls will take place Sunday afternoon. After that race, the Hall of Famers will be available for photos and autographs. Goshenhistorictrack.com
Declaration of Independence Cannon Firing Program: Saturday, July 2, 2016 from 12:00 to 1:00 p.m. at Fort Montgomery State Historic Site. Celebrate the actual date that American Independence was declared with a firing of the fort's artillery. palisadesparkconservancy.org
West Point Band Music Under the Stars: Saturday, July 2, 2016 from 7:30 to 9:30 p.m. Trophy Point Amphitheater. Celebrate America's Independence on some of the very grounds where we fought for it. Enjoy beautiful Hudson River views while The West Point Band performs. Guests are advised to arrive early, as this impressive celebration of music and fireworks is one of the most well-attended events of the year. Free and open to the public.     westpointband.com
Cornwall Independence Day Celebration: Monday, July 4, 2016 from 7:00 a.m. to 10:00 p.m. at Cornwall Town Hall. Full day of activities include a pet show, children's art show, inflatable rides, craft fair, pie eating contest, Sam the Magician, Macaroni the Clown, live music, a reading of the Declaration of Independence, a flag ceremony, and fireworks. Cornwall4th.org
Independence Day at Knox's Headquarters: Monday, July 4, 2016 from 10:00 a.m. to 4:00 p.m. Celebrate the 4th at New Windsor Cantonment and Knox's Headquarters, two sites hallowed by the soldiers who won our independence. At Knox's Headquarters, see a small cannon fired at 1:00 p.m. and 4:00 p.m. At New Windsor Cantonment, see military firing demonstrations at 2:00 p.m. palisadesparksconservancy.org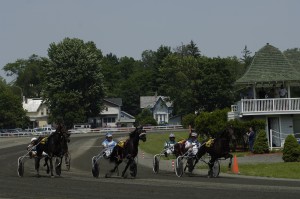 Grand circuit racing will take place at the Goshen Historic Track on 4th of July weekend.
Also visit Orange County Tourism's new website: www.orangetourism.org.
 About Orange County Tourism
Orange County Tourism, based in Goshen, N.Y., is the county's tourism headquarters and a participant in the I LOVE NY program. A comprehensive listing of area attractions, lodging, and events can be found at www.OrangeTourism.org. For a free copy of the Orange County Travel Guide, e-mail tourism@orangecountygov.com or call 845-615-3860.