Residents are encouraged to share their best pumpkin picking pictures from local farms
ORANGE COUNTY, N.Y. (September 30, 2015) – Orange County Tourism is increasing its social media presence with the launch of an Instagram account, https://instagram.com/visitorangecountyny/. The debut, set for Thursday, October 1, will coincide with a challenge to those visiting local pumpkin farms to post their cutest pictures using the hashtag #VisitOrangeCountyNY. Instagrammers whose pictures receive the most likes will win free passes for a family of four to three Orange County tourism sites.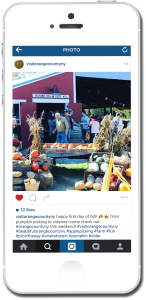 Instagram is the eighth most popular mobile app in the U.S. and serves as a powerful marketing and communication tool. . The app has 300 million monthly active users and 75 million daily users. More than 30 billion photos have been shared on Instagram since it was launched in 2010, and an average of 70 million photos are posted through the app each day.
"Instagram provides us with another innovative tool to connect with residents of Orange County and tourists via social media," said Orange County Tourism Director Susan Hawvermale. "We will continue to promote tourism here in Orange County on multiple social media platforms. Instagram provides us with another opportunity to highlight the beauty of Orange County and its many activities and attractions. We will continue to engage followers with fun initiatives such as the pumpkin picking picture contest."
Orange County is home to several pumpkin farms where visitors can pick their own and capture memories to share via Instagram:
Be sure to visit Orange County Tourism's Facebook page: Orange County Tourism NY. It's a fabulous guide to up-to-the-minute postings of area events and activities, great times, and memorable experiences available to visitors.
Also visit Orange County Tourism's innovative and user friendly new website: www.orangetourism.org.
About Orange County Tourism
Orange County Tourism, based in Goshen, N.Y., is the county's tourism headquarters and a participant in the I LOVE NY program. A comprehensive listing of area attractions, lodging, and events can be found at www.OrangeTourism.org. For a free copy of the Orange County Travel Guide, e-mail tourism@orangecountygov.com or call 845-615-3860.