Visitors are encouraged to share pictures of their fresh cut trees at the farm on Instagram
ORANGE COUNTY, N.Y. (November 18, 2015) – Sleigh bells ring and the fragrance of freshly cut pine is in the air. Christmas tree buying is a magical family experience here in the Hudson Valley. Orange County tree farms have thousands of acres of fresh trees ready to be cut, gift shops filled with wreaths and decorations, and hot chocolate to warm up travelers from near and far.
Once visitors choose their perfect tree, Orange County Tourism is encouraging them to share their picture on Instagram using the hashtag #VisitOrangeCountyNY. Instagrammers whose pictures receive the most likes will win free passes for a family of four to three Orange County tourism sites, courtesy of Storm King Art Center, Museum Village, and West Point Tours.
"Orange County farms are ready for the holidays with beautiful trees and fun things to do," said Orange County Tourism Director Susan Hawvermale. "Select your own Christmas tree, share a picture, and make a memory."
Orange County is home to over 20 farms where visitors can either cut their own tree or choose from the farm's selection at their stands. Increase the holiday fun by capturing the memory and sharing via Instagram. Tree farms include: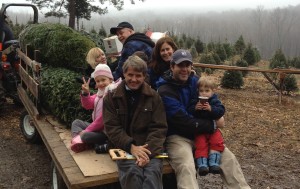 Emmerich Tree Farm: Choose and cut spruce, pine, and fir situated on a beautiful south-facing hillside. Wagon rides to the field, music, bonfire, and free hot chocolate. 10 Sleepy Valley Road, Warwick. www.emmerichtreefarm.com
Farmside Acres: Cut your own Douglas fir, Scotch pine, and blue spruce. Saws provided. Complimentary candy canes, cider, and donuts. First weekend in Dec 10-4. 280 Angola Road, Cornwall. farmsideacres@gmail.com
Stone Oak Farm: Choose and cut trees and homemade fresh decorated wreaths. Timber frame barn with roaring fireplace. Free hot chocolate and candy canes. Weekends after Thanksgiving, 10am to dusk. 2017 Stony Bar Road, Slate Hill. (845) 355-4751
Rocky Bar: Choose and cut trees and select local, fresh, handmade wreaths. Holiday photo sessions with Santa available. Select December weekends. 52 Rocky Bar Road, Westtown. Facebook: RockyBarChristmasTreeFarm
Stonehenge Farms: Fresh cut trees including Douglas fir, balsam, blue spruce, Scotch pine, live trees. Handmade garlands and wreaths. Fresh baked pies, apple cider, and produce. Daily 8 to dusk. 1401 Route 302, Bullville. Facebook: Stonehenge Farms
Be sure to visit Orange County Tourism's Facebook page: Orange County Tourism NY. It's a fabulous guide to up-to-the-minute postings of area events and activities, great times, and memorable experiences available to visitors.
Also visit Orange County Tourism's innovative and user friendly new website: www.orangetourism.org.
About Orange County Tourism
Orange County Tourism, based in Goshen, N.Y., is the county's tourism headquarters and a participant in the I LOVE NY program. A comprehensive listing of area attractions, lodging, and events can be found at www.OrangeTourism.org. For a free copy of the Orange County Travel Guide, e-mail tourism@orangecountygov.com or call 845-615-3860.