ORANGE COUNTY, N.Y.  (May 19, 2015) – Foodies and cyclists will love the unique mix of locally grown dining and biking fun at the June 28th Orange County Farm to Fork Fondo presented by Wrenegade Sports. It's one of only two unique cycling events of this type to be held nationwide. The term 'fondo,' well-known by biking enthusiasts, signifies both a sporting and cultural event. Sign up and discover why "happy tummies ride local" is the theme of this special Hudson Valley happening.
Be one of the 500 participating cyclists joining the Colavita/Bianchi Professional Women's Cycling Team for a mass-start at this fully-supported Gran Fondo. Choose your distance and work up an appetite over a challenging course with magnificent views. Farm stops will feature locally sourced hors d'oeuvres catered by Colavita Italian specialty imports, Fine Cooking Magazine, and Sun-Maid.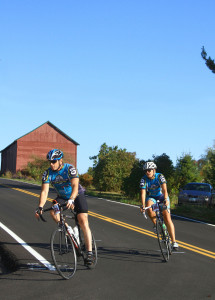 Non-riders have an opportunity to participate in the event as farm stop volunteers distributing water, assisting with registrations, and cheering on the riders. In fact, volunteers will compete on behalf of the farms for cash prizes. Individuals or groups are both welcome to sign up. Costumes, music, and team cheers are a sure way to get the winning edge. Volunteers will  enjoy access to the morning Colavita Italian Coffee Station, participate in raffles, and go home with an event t-shirt. It's a fun day in the country all the way around.
"Orange County's abundance of dairy farms, orchards, vegetable growers, and vineyards make it the perfect locale for an event of this magnitude," said Susan Hawvermale, Orange County Tourism Director. "This is a fabulous opportunity to celebrate the exhilarating relationship between cyclists, farm fresh food, and gorgeous landscapes."
The event begins at the beautiful Cedar Lakes Estate in Port Jervis. Many of the riders will lodge and enjoy pre-fondo activities here including food prepared by head chef, Lisa Karvellas, a decorated farm-to-table specialist trained at the French Culinary Institute of Manhattan and in Tuscany and Sicily, Italy. She and her team will prepare selections of farm-to-table fare for hundreds of hungry foodie cyclists.
At Grand Fondo Mile 16, riders will stop at Pierson's Farm, an eighth generation farm recognized as a bicentennial farm in 2001. Today, the Piersons raise natural beef and dairy heifers, grow flowers in their greenhouses, host fall farm events, sell freshly cut Christmas trees in December, and have a gift shop filled with locally made treats in their refurbished old wagon house. www.PiersonsFarm.com.
Grand Fondo Mile 30 brings cyclists to Soons Orchards in New Hampton. Known for its fresh-picked apples, cider, vegetables, and homemade baked goods, this is also the home of the Orchard Hill Cider Mill producing handmade hard ciders. In fall, pick-your-own apples and pumpkins here. Check their on-line events calendar for farm-to-table dinner events complete with cooking demonstrations. www.SoonsOrchards.com.
At Grand Fondo Mile 49, cyclists arrive at the W. Rogowski Farm in Pine Island, right in the heart of the famous Orange County Black Dirt Region. The farm offers some of the most diverse and unusual produce in the region including ginger root, shiitake mushrooms, and green tomatoes. Stop in for "Breakfast on the Farm" every Saturday and Sunday from 9 a.m. to 2 p.m. and bring home fresh produce and goodies from their farm store. www.rogowskifarm.com.
Bellvale Farms in Warwick is the Grand Fondo Mile 63 stop. Seven generations have produced milk at this 450-acre dairy farm. Taste the homemade ice cream while taking in the views from  their Bellvale Farms Creamery atop Mount Peter, right across the road from the Appalachian Trail. The farm hosts tours by reservation every Sunday from June through October. www.bellvalefarms.com.
Keith's Farm in Westtown is the Grand Fondo Mile 92 stop. The New York Times said "Keith's Farm grows garlic from another planet compared with the stuff from supermarkets." Farmer Keith Stewart is the author of "Storey's Guide to Growing Organic Vegetables & Herbs for Market" and "It's a Long Road to a Tomato: Tales of an Organic Farmer Who Quit the Big City for the (Not So) Simple Life."  845-856-4955.
Complete information about this fabulous cycling and dining event is available at www.farmforkfondo-oc.com.
Remember to visit Orange County Tourism's Facebook page, Orange County Tourism NY. It's your guide to up-to-the minute postings of area events and activities, great times, memorable experiences and a great reminder why Orange County is such a great place to visit!
About Orange County Tourism
Orange County Tourism, based in Goshen, New York, is the county's tourism headquarters and a participant in the I LOVE NY program. A comprehensive listing of area attractions, lodging and events can be found at www.OrangeTourism.org. For a free copy of the Orange County Travel Guide, call 800-762-8687.