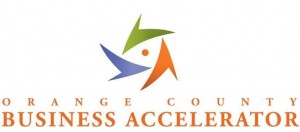 The Orange County Business Accelerator (OCBA), an innovative business incubator that provides resources and programs to entrepreneurs and startup companies, announced today it received a $125,000 grant from the New York State Business Incubator and Innovation Hot Spot Support Program, sponsored by Empire State Development. The grant was formally awarded   at yesterday's 2013 Regional Economic Development Council Awards reception in Albany.
This was the third round of the program, in which a total of $1.25 million in operating grants was awarded to New York State incubators and innovation hot spots. OCBA was one of only 10 organizations to receive an award in the business incubator category.
"We are delighted to receive this grant," said OCBA Development Director Peter Malone. "We have worked hard to create an environment with all of the necessary resources for startup companies to grow and thrive. With this funding from the New York State Business Incubator and Innovation Hot Spot Support Program, even more entrepreneurs and small businesses will be able to leverage our programs and services to help them find success and avoid the common pitfalls that can cause small businesses to fail."
Orange County Executive Edward A. Diana said, "Even during difficult economic times, Orange County has stood out as a leader in business development thanks to the outstanding partnerships we have established that share our commitment to job creation. OCBA has proven itself as a leader in business innovation and is a first-rate resource for our county's entrepreneurs. This grant is testament to their success."
The state's Business Incubator and Innovation Hot Spot Support Program was designed to improve both the quality and quantity of incubator programs serving startup companies across New York. For a business incubator to be eligible for the grant, it must meet a specific set of criteria, including a demonstrated alignment with regional strategies and priorities, effectiveness in accelerating startup growth and overall high-quality programs and services.
OCBA was established in 2009 by Diana with help from the Orange County Industrial Development Agency (IDA) with the intention of giving startup companies the necessary resources for success. It features 15 offices and suites as well as shared conference rooms, a shared kitchen and other facilities.
"This is a great step forward for OCBA and the entire Hudson Valley business community," said Laurence P. Gottlieb, managing director of OCBA and president and CEO of the Hudson Valley Economic Development Corp. (HVEDC). "Our hope is that OCBA's support and education services, coupled with some of the region's most innovative new business models, will continue to contribute to the health and expansion of our region's economy."
While OCBA aims to support all startup businesses, its targeted industry sectors are clean energy, health sciences and information technology. Since its inception, several companies that began in the organization's office have graduated to establish businesses across the Hudson Valley, creating well over 100 new jobs.
"The partnership between the IDA, HVEDC and OCBA continues to thrive and this grant is yet another achievement of our collaborative efforts," said Robert Armistead, chairman of the Orange County IDA Board of Directors.
Steve Neuhaus, Orange County Executive-elect said, "The Accelerator is an important component of the county's economic development program. This grant will allow the Accelerator to continue to create new jobs and make it easier for entrepreneurs and startups to achieve success."
With this funding from the state's Support Program, OCBA will provide several new resources and services including:
Advanced business training courses;
Investor workshops;
An expanded client marketing campaign that offers customized video; and
Professional consultations to help develop websites, social media platforms and other marketing strategies.
OCBA will also use a significant portion of the grant money to establish its Summer Sand Box Program, a program designed to provide specific business training to young entrepreneurs enrolled in courses at Orange County Community College and Mount Saint Mary's College.
About the Orange County Business Accelerator:
OCBA, located at 4 Crotty Lane at New York International Plaza at Stewart Airport, New Windsor, N.Y., is a business incubator program launched by the Orange County Industrial Development Agency in partnership with Orange County Government. The incubator, 10,000 square feet of Class-A high-tech research and development space, is designed to attract new entrepreneurial investment by providing businesses with below market occupancy costs, a menu of mentoring programs and a high-tech plug-and-play office environment.