Band will receive Rising Star Award at celebration of the arts event on May 20.
MOUNT VERNON, N.Y. (April 16, 2018) — The Mount Vernon City School District's Arts Magnet Band is being recognized for providing students with quality music education. Delta Sigma Theta Sorority, Inc. – Westchester Alumnae Chapter (DSTWAC) is honoring the band with the Osceola McCarthy Adams – Rising Star Award.
The award will be presented on Sunday, May 20, 2018 at 2 p.m. at the Greenburgh Public Library Multipurpose Room located at 300 Tarrytown Rd in Elmsford, NY.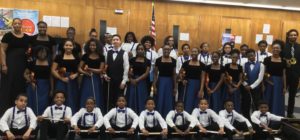 The Osceola McCarthy Adams Awards event is an annual celebration of the arts. The awards are named for Delta Founder Osceola McCarthy Adams, a Broadway actress who appeared with Paul Robeson and helped to launch the careers of Sidney Poitier and Harry Belafonte.
In a letter addressed to the director of the band, the DSTWAC called the work the Arts Magnet Band is doing "impressive" and expressed its desire to celebrate the band's efforts in creating the next generation of musicians.
"The Arts Magnet Band is honored to be recognized by such a prestigious organization," said Evelyn Collins, Director of Arts & Gifted and Talented Education. "We are committed to providing students in Mt. Vernon with the opportunity to hone their musical talents and perform at a high level with their peers while preparing them for work in any field."
The Performing and Visual Arts Magnet School's next performance is May 23 at 6:00 p.m. in the Mount Vernon High School Auditorium.  Spring Showcase 2018 is the culmination of a year in the arts for the dance, musical theatre, band, orchestra and visual arts classes.
Acceptance into the Performing & Visual Arts Magnet School is by audition only. For more information, visit www.mtvernoncsd.org.
About Delta Sigma Theta Sorority, Inc. – Westchester Alumnae Chapter (DSTWAC)
On January 13, 1913 on the Howard University campus, twenty-two illustrious women founded Delta Sigma Theta Sorority, Inc. because they desired to create an organization that was committed to the ideals of sisterhood, scholarship, social action, and public service. On October 31, 1959 sixteen insightful Deltas chartered DSTWAC when they recognized the need for quality social, political, educational, and arts programs in the demographically diverse Westchester County, New York. After fifty-nine years DSTWAC perpetuates that vision by creating, developing, and executing innovative and relevant community programs.
About Mount Vernon City School District
With more than 8,000 students in 16 schools, the Mount Vernon City School District is committed to providing a quality education to its children as well as developing programs that meet the diverse academic and social needs of its students.