Festivities recognize the school's diverse student body
MOUNT VERNON, N.Y.  (Nov. 7, 2017)  — Students, faculty and administrators at Mount Vernon High School had an opportunity to celebrate their cultural heritage during the recent "Awareness and Resilience" Hispanic Heritage Month Celebration.
The school marked the occasion  by "celebrando el patrimonio cultura" in Spanish and "comemorando o patrimônio cultural" in Brazilian Portugese. All  students had an opportunity to commemorate their personal heritage in an gathering which featured food, dance and an opportunity to offer donations to those affected by the recent Mexican earthquake and Hurricane Maria.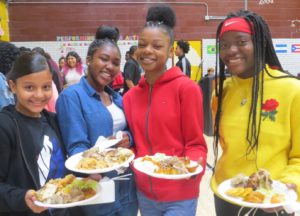 Ray Sanchez, superintendent of the Ossining Union Free School District, offered comments during his keynote address to students.
"It's important to recognize heritage," said Sanchez. "It helps others to understand the various diversities we  have here and in our nation and to have an appreciation of our shared stories that will hopefully inspire students to pursue their goals."
Principal Ronald Gonzelez endorsed Sanchez's comments as he traveled about the room chatting with students, noting the school's diversity makes it an even stronger and more vibrant place to learn.
Later, he proudly read "I'm a Rican," using the spoken word method of reading the poem to the almost 200 students in attendance.
Students said they appreciated the afternoon, which featured musical entertainment by the Afro Latin Jazz Alliance, an information session by the National Hispanic Institute, Latin dance lessons by the Arthur Murray Dance studio and a Latin American-themed buffet luncheon featuring chicken, beans, rice and plantains and assorted desserts.
Student Marcio Dalves liked having the opportunity to celebrate the culture of his native Brazil.
"I had the opportunity to come here for a better life," said Dalves, who plans to attend Westchester Community College next year. "Life is better here than in Brazil. Today, we're teaching people about cultures they didn't know about, that Brazilians matter, that Hispanics matter."
Student Patrick Mori agreed.
"We're recognizing what Latin Americans have done for this country and we celebrate that today," Mori added.
Also sitting with them was student Sabrina Passoni,who emphasized one's heritage is important, no matter where one's origins are.
"It shows where you're from," Passoni added, "and that you should be proud of who you are."
About Mount Vernon City School District
With more than 8,000 students in 16 schools, the Mount Vernon City School District is committed to providing a quality education to its children as well as developing programs that meet the diverse academic and social needs of its students.