MOUNT VERNON, N.Y. (Aug. 31, 2017) – The Mount Vernon City School District this week hosted its new cohort of teachers for a four-day new teacher orientation that will acclimate them to not only the curriculum but the professional culture and high expectations of working in the district. The orientation was part of the district's preparation for the first day of classes on Sept. 6.
"The orientation was an opportunity to onboard teachers in a very intentional way," said Tanganyika Lindner-Brown, who is a district professional development coordinator. She created the event with Julie Termini, who is also a district professional development coordinator. "At the Mount Vernon City School District we are raising the standards of excellence to continue making an impact in the lives of children."
"If we equip the adults with the tools they need, they are better able to serve our children," Termini said. "There were introductions, information and even a scavenger hunt! The goal of the new teacher orientation was to not just introduce them to the Mount Vernon district and its personnel, but to also provide knowledge of who we are and equip them with what they need before the first day of class."
Members were exposed to the curriculum they will teach, as well as other topics, such as planning and preparation for classroom teaching, technology in the classroom and engaging students to create a collaborative learning environment.
On Tuesday, Lindner-Brown led Best Practices sessions where she challenged the teachers to be champions for their children, asked them to envision their classroom on the first day of school and worked with them on developing student-centered learning environments in their classrooms.
One new teacher, Sonal Patel-Sheth, will be teaching English as a New Language in grades 3-6 at Edward Williams Elementary School. Patel-Sheth came to Mount Vernon after teaching in another district for eight years because of the opportunity Mount Vernon afforded her to work with a diverse student body.
"I have worked in affluent neighborhoods, but working in underprivileged neighborhoods makes me happy," she said. "Teachers here have the opportunity to make a real impact."
"Our new teachers will be ready to begin a great school year because of this intensive preparation, which means better student outcomes," Superintendent Dr. Kenneth R. Hamilton said. "For example, learning Best Practices provides a key building block for instruction; helps motivate and engage students; and prompts students to learn and achieve."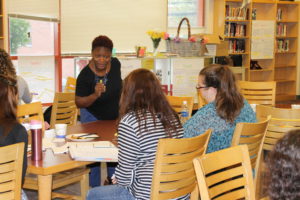 Photo: Tanganyika Lindner-Brown, a district professional development coordinator, leads a Best Practices session at Mount Vernon's new teacher orientation.
About Mount Vernon City School District
With more than 8,000 students in 16 schools, the Mount Vernon City School District is committed to providing a quality education to its children as well as developing programs that meet the diverse academic and social needs of its students.