The program challenges students to read more than a quarter million books.
MOUNT VERNON, N.Y. (November 2, 2015) — The Mount Vernon City School District  officially kicked off its 2015-2016 Superintendent's Reading Challenge with events in each school building during the second part of October. The kick-off events were filled with music, performances and surprises to excite students and promote literacy both in home and in school.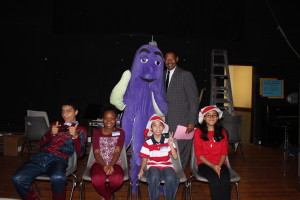 The biggest surprise, by far, was the introduction of OLI the Octopus, the reading challenge's premier student motivator. OLI, an acronym for Ongoing Literacy Challenge, will visit schools throughout the academic year to encourage students take part in the Reading Challenge and check on their progress.
Based on a children's book character developed by District Clerk Rick McCormack and Superintendent of Schools Dr. Kenneth R. Hamilton, OLI is "sure to motivate the students and help create excitement about reading across the district," said McCormack.
So confident are district officials that students can read more, they have set this year's goal at well over a quarter million books (K-2 students 35 books & 3-8 students 30 books). "I see no reason why our student can't read 300,000 books before the end of the school year," said Hamilton. "I have full confidence that our students will not only meet this goal, but exceed it."
While last year's challenge was successful, the District's Reading Challenge Coordinator Dr. Gayle White-Wallace knows that "our students can do even more to promote literacy and develop strong reading habits."
About Mount Vernon City School District
With more than 8,000 students in 16 schools, the Mount Vernon City School District is committed to providing a quality education to its children as well as developing programs that meet the diverse academic and social needs of its students.