Students will receive one-on-one assistance in gaining admission to selective universities
MOUNT VERNON, N.Y. (October 30, 2015) — This month, Mount Vernon City School District selected four students as its 2015 Mount Vernon Star Scholars. Those students are Agustin Mendoza, Michael Persaud, Taury Phelps, and Judy Yu.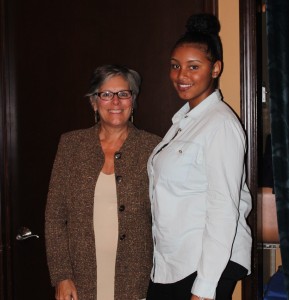 Mount Vernon Star Scholars ("MVSS") was established in 2012 under the original direction of Mount Vernon residents Norm Savoie and Darcy Miller for the purpose of assisting a select group of academically-talented students at Mount Vernon high schools gain admission to selective colleges and universities in the United States. The star scholars will receive valuable one-on-one guidance from a volunteer mentor.
"The students will receive assistance in important areas such as test preparation and securing financial aid," said Miller. "The volunteer mentors will help the star scholars navigate the complex college application process every step of the way.
The program is open to all students enrolled in one of the Mount Vernon high schools who maintain a weighted-average GPA of 85 or better.  Scholars are chosen in the summer between their sophomore and junior year based primarily on their academic achievement in their first two years of high school and their commitment to continuing their education at the undergraduate level upon graduation from high school.  While the designation is not specifically need-based, a student's challenges in attending a top-tier institution of higher learning, including financial challenges, are factored into the selection process.
While the program is still young, MVSS alumni can now be found on the campuses of Case Western Reserve University, Denison University, Harvard University and the University of Connecticut. With sufficient resources, the program would like to be able to select 5-8 Scholars each year.
Attached picture features (left to right): Founder and Mentor Darcy Miller with her Mentee Taury Phelps
About Mount Vernon City School District
With more than 8,000 students in 16 schools, the Mount Vernon City School District is committed to providing a quality education to its children as well as developing programs that meet the diverse academic and social needs of its students.