Norm Savoie is presented with Mount Vernon Knight Light Award.

MOUNT VERNON, N.Y. (October 4, 2016) — Norm Savoie, the founder of the Mount Vernon Star Scholars program, has been recognized by the school district for the program's contributions to the success of some of its brightest students. Savoie was presented with the Mount Vernon Knight Light Award at a school board meeting on Tuesday, September 20. District superintendent Dr. Kenneth R. Hamilton called the work Savoie has done "incredible."
"As an educator, I cannot tell you enough how important it is to have a program like this in place here in Mount Vernon. As we work toward the 20/20 Vision more and more of our students are going to be looking to college, not as an option but as the next step in their academic career," stated Dr. Hamilton.  "Many of these students will be the first in their families to attend or even apply to colleges."
Mount Vernon Star Scholars, founded by Savoie in 2012, helps academically-talented students at Mount Vernon high schools gain admission to selective U.S. colleges and universities. Students in the program are provided with one-on-one assistance with the college application process.
"I am honored to accept this award on behalf of the Program," said Savoie. "Its success would not be possible without the dedication of our volunteer mentors and the hard work of the students themselves."
Since its inception, Star Scholars has played a critical role in opening the doors of opportunity for students in the Mount Vernon public high schools. While the program is still young, MVSS alumni can now be found on the campuses of Harvard University, Case Western Reserve University, Denison University and the University of Connecticut among others.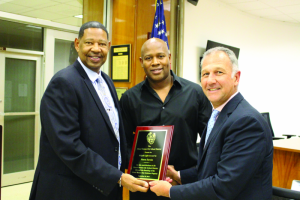 About the Knight Light Award
The Knight Light Award is presented to a person or group that live by the values of a knight including courage, justice, mercy, generosity, faith, nobility and hope. It is intended to spotlight people or groups that have a positive impact on the Mount Vernon City School District and/or it students.
About Mount Vernon City School District
With more than 8,000 students in 16 schools, the Mount Vernon City School District is committed to providing a quality education to its children as well as developing programs that meet the diverse academic and social needs of its students.