OAKLAND, N.J. (Jan. 4, 2018) – MetroVac's Vac 'N, Blo® earned a second place ranking as one of the Top 15 vacuums in the marketplace by Bestcomparer.com, the product buying guide website that helps consumers buy better products.
The information and product choices Bestcomparer.com provides are based on analysis, reviewing existing research, factual data, historical trends, user experiences and product tests.  Findings are consolidated into concise information to make product choices easy for its readers.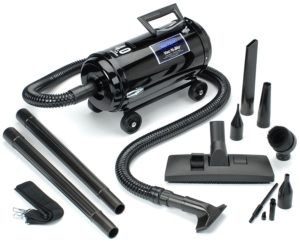 In its review, Bestcomparer.com said the Vac 'N, Blo car vacuum/dryer provided desirable power and flexibility in the comfort of the user's garage.
"The American-made vacuum provides improbable suctioning that cleans your car in almost no time," the review said.  "With more than 10 attachments, the MetroVac Vac 'N, Blo can be considered as one of the most versatile units on our list."
The review called the Vac 'N, Blo "a piece of equipment that will take cleaning to new heights" and can handle extensive cleaning tasks.
"If you are looking for something to handle detailed cleaning, you should go for this car vacuum," the review said. "There is one thing that makes the MetroVac Vac 'N, Blo a suitable candidate for use in the car, and that is the fact that it can handle so many attachments. If you are also looking for more power when cleaning and have a dirt-free car in less time, don't misjudge the vacuum cleaner due to its size."
MetroVac said it was honored to receive such high praise.
"It's reviews like this that reinforce MetroVac's commitment to outstanding American-made product excellence," said MetroVac Vice President for Marketing David Stern. "We know we produce quality products that work and are durable.  And we know our customers are happy to purchase a product that's 100 percent made in the USA."
To read more, visit:  https://bestcomparer.com/best-car-vacuums/
About Metropolitan Vacuum Cleaner Company, Inc.
MetroVac is an American, family owned and operated business established in 1939 in a small Bronx, N.Y., storefront. From those humble beginnings, the company has evolved and grown into a multidivisional American manufacturing icon. MetroVac has pioneered many industry firsts and today manufactures and markets such well-known brands as the Metropolitan Professionals® automotive and floor care vacuum cleaning systems; DataVac® computer maintenance systems; Vac'N,Blo® automotive detailing systems; Air Force® motorcycle, car and pet dryers; Magic Air® inflation systems; Hit Zone® air-suspension batting tees; and more. For more information, visit www.metrovac.com or call 1-800-822-1602.