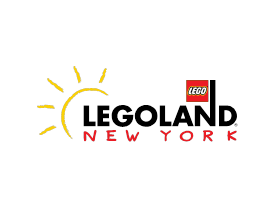 GOSHEN, N.Y. (June 14, 2016) – Merlin Entertainments PLC ("Merlin"), Europe's largest and the world's second largest visitor attraction operator, presented plans tonight to build a theme park and resort in the Town of Goshen, the county seat of Orange County in New York's Hudson Valley. The preliminary timeline for LEGOLAND® New York, could see an opening as early as 2019.
The proposed plans for LEGOLAND New York were unveiled during a special Goshen Town Board meeting held today in the auditorium of the Orange County Emergency Services Center.
"We believe this location, just an hour from New York City and approximately three hours from Boston and Philadelphia, is the absolute perfect site for an entertainment brand as compelling as LEGOLAND," said John Ussher, Senior Divisional Director, LEGOLAND Development. "We would be honored to join the Goshen/Orange County community and are confident local and regional residents, in addition to international travelers coming to New York, would have a fantastic experience at the park."
The proposal for LEGOLAND New York Resort includes a theme park offering a unique mix of more than 50 rides, shows and attractions, including spectacular LEGO® models and a LEGOLAND Hotel.
A public open house is scheduled for Thursday, July 7 to provide the community with an opportunity to see the proposed park's preliminary design concepts and learn more about the project from LEGOLAND representatives.
"Most importantly, we would welcome the opportunity to become a new and respectful neighbor to Goshen and Orange County, and we promise to be sensitive of the beauty this region offers visitors who seek a variety of destination experiences," Ussher said.
"LEGOLAND New York is a significant, family friendly project that can have an enormous impact on job creation for Orange County," said Orange County Executive Steven M. Neuhaus. "It can be a regional game changer in ways no other project contemplated in recent history has been. I know many Orange County residents want more details on LEGOLAND and I am looking forward to the start of the public outreach on the project this week."
The proposed LEGOLAND New York Resort will be geared towards families with children ages 2 to 12.
"LEGOLAND has a history of being extremely respectful to their host communities. Goshen has a treasured travel destination history and I know LEGOLAND will build on that success," said President and CEO of the Orange County Chamber of Commerce Lynn Cione. "Their reputation as a family friendly destination is impeccable. This economic development opportunity will bring new jobs and revenue to the area which will benefit the entire county."
The proposed New York site would be Merlin's third site in North America. The park's design would mirror the successful concept of the six resorts operating in Florida, California, the United Kingdom, Germany, Malaysia and Denmark.
Merlin's decision to select the Goshen site for its proposed LEGOLAND New York Resort followed considerable site visits to areas in the metropolitan New York City area over the last few years. The proposed park is expected to create hundreds of new jobs, with additional construction jobs during its creation.
"It's a privilege to be working in tandem with an army of professionals and elected leaders who are making this monumental project their top priority," said President and CEO of the Orange County Partnership Maureen Halahan. "From capital investment and job creation to tourism and tax rateable dollars, the multiplier on a project of this magnitude will be a major contributor to our economic stability for years to come."
About Merlin Entertainments PLC
Merlin Entertainments PLC is a global leader in location based, family entertainment. Europe's No. 1 and the world's second-largest visitor attraction operator, Merlin now operates over 100 attractions, 13 hotels and four holiday villages in 23 countries and across four continents. The company aims to deliver memorable experiences to its more than 60 million visitors worldwide, through its iconic global and local brands, and the commitment and passion of its approximate 27,000 employees.
Visit www.merlinentertainments.biz for more information.
About LEGOLAND Parks
The first LEGOLAND Park opened in 1968 in Billund, Denmark, following by Windsor in the United Kingdom in 1996 and in California in 1999. In 2002, LEGOLAND Deutschland opened. Since 2005, those four parks have belonged to British-based Merlin Entertainments Group. In 2011, the group opened LEGOLAND Florida and LEGOLAND Malaysia in 2012. LEGOLAND Dubai is scheduled to open in October 2016, with LEGOLAND Japan scheduled for the second quarter of 2017.