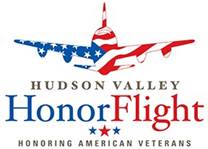 WHITE PLAINS, N.Y.  (April 29, 2015) —- Sixty-five Hudson Valley area World War II veterans are part of the next group of honorees to travel to Washington, D.C. to visit the World War II Memorial and other sites on Saturday, May 9, courtesy of Hudson Valley Honor Flight (HVHF), the regional hub of the national non-profit organization.
The flight will leave Westchester County Airport in White Plains  and includes 40 Westchester County veterans, five from Rockland County, one each from Orange, Dutchess and Putnam counties and three from nearby Fairfield County, Conn.
Onboard the flight will be 93-year-old former WNBC and WCBS meteorologist and science reporter Dr. Frank Field, who spent nearly 50 years working in the New York City television market and served in the Army Air Corps during World War II. His chaperone will be his son Storm Field, an Irvington resident, who was also known in the New York City television market for his meteorological reports on WABC, WCBS and WWOR.
For the first time, more than a dozen New York City veterans will be on the flight, including three original Tuskegee Airmen (the first African-American military aviators in the U.S. Armed Forces); a soldier from the 101st Airborne division who jumped into Germany the day after D-Day; two women veterans; and one of the nation's oldest living veterans who, at 105 years of age, still holds a job as an entertainer.
According to the U.S. Veterans Administration, World War II veterans are dying at a rate of 550 per day nationwide.   The Hudson Valley has approximately 113,300 living veterans. Among that number is a declining number of World War II veterans who have never seen the World War II Memorial in Washington, D.C., which was completed in 2004.
Hudson Valley Honor Flight arranges one-day, all-expense-paid journeys for veterans that include visits to the World War II and Iwo Jima Memorial, as well as attendance at the Changing of the Guard at Arlington National Cemetery's Tomb of the Unknown Soldier.
In addition, Honor Flight organizes celebrations at the morning send-off and home-coming, gathering volunteers from the area to cheer the veterans and thank them for their service to the nation.
"When we expanded into the lower Hudson Valley last year, our goal was to be able to reach many more veterans who deserve the Honor Flight experience and see how their sacrifice and service is treasured by the nation," said Frank Kimler, Hudson Valley Honor Flight chairman.
This flight is planned to mark VE Day (Victory in Europe Day), which is the day before, May 8.
"Our veterans are all national treasures and we are committed to seeking out members of the Greatest Generation so we can offer them this Honor Flight experience," said Beth Vought, HVHF executive director. "We welcome families and friends to help us find these veterans, and also to join us and rally others to participate in the celebrations that are such a big part of these special journeys."
Hudson Valley Honor Flight plans four Honor Flight journeys each year. The May 9 flight is being underwritten Jeffrey Gural, chairman of the real estate firm Newmark Grubb Knight Frank.
To learn more, including additional information about the May 9 flight, to join in the send-off and welcome home celebrations, or to contribute to future Honor Flight journeys, visit www.hvhonorflight.com or call 845-391-0076.
ABOUT HUDSON VALLEY HONOR FLIGHT
Hudson Valley Honor Flight (HVHF) is a 501c3 nonprofit organization which "Honors American Veterans" for all their sacrifices. HVHF transports these heroes to Washington, D.C. to visit their memorials at no cost to them. It is the local hub of the National Honor Flight Network (which consists of more than 100 independent non-profit "hubs" across America). HVHF flies multiple times a year out of Stewart International Airport and Westchester County Airport. It serves veterans from the following counties: Orange (N.Y.), Ulster (N.Y.), Dutchess (N.Y.), Westchester (N.Y.), Rockland (N.Y.), Sullivan (N.Y.), Putnam (N.Y.), Pike (Pa.), Bergen (N.J.), and Fairfield (Conn.). Veterans from other surrounding counties are considered as well. Top priority is given to those of the Greatest Generation, that of World War II, and terminally ill veterans from other wars. HVHF plans to take ALL veterans from other wars on future flights. Applications are kept on file. For more information, visit http://hvhonorflight.com