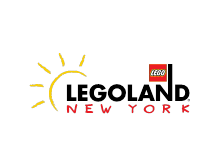 GOSHEN, N.Y. (Dec. 7, 2016) – Officials of the proposed LEGOLAND® New York will hold a supporters rally on Monday, Dec. 12 from 5 p.m. to 7 p.m. at Palacio Catering and Conference Center, 1700 Route 17M, in Goshen.
The proposal for LEGOLAND New York, geared towards families with children aged 2 to 12, includes a theme park offering a unique mix of more than 50 rides, shows and attractions, including spectacular LEGO® models and a LEGOLAND® Hotel.
"The huge numbers of people, groups and organizations supporting the proposed Park is simply amazing," said Phil Royle, LEGOLAND New York's head of community & project relations. "We're looking forward to having this opportunity to get together. As the environmental review process continues, we pledge to continue to be fully transparent in all of our actions. We are committed to being an outstanding neighbor to Goshen and the greater Orange County community. Please visit our LEGOLAND New York Community Welcome Center in Goshen to learn more about our project. I look forward to answering any questions you may have."
Speakers at the rally include members of the local Goshen community, the Goshen and Orange County business communities, elected officials and labor officials.
The proposed $350 million project would be Merlin Entertainments' third LEGOLAND Park in North America. The Park's design would mirror the successful concept of the seven resorts operating in Florida, California, the United Kingdom, Germany, Malaysia, Denmark and Dubai.
Merlin's decision to select the Goshen site for its proposed LEGOLAND New York Resort followed considerable site visits to areas in the metropolitan New York City area over the last few years. The proposed park is expected to create hundreds of new jobs, with additional construction jobs during its creation.
The environmental review process for the park continues with a Dec. 15 public hearing at C.J. Hooker Middle School in Goshen. The Town of Goshen Planning Board has approved LEGOLAND New York's draft environmental impact statement (DEIS) for public review. The Dec. 15 meeting allows for public comment on the document.
All project documents are available on the Town of Goshen's website: http://www.townofgoshen.org/
About Merlin Entertainments plc
Merlin Entertainments plc is a global leader in location based, family entertainment. Europe's No. 1 and the world's second-largest visitor attraction operator, Merlin now operates more than 100 attractions, 13 hotels and five holiday villages in 23 countries and across four continents. The company aims to deliver memorable experiences to its more than 60 million visitors worldwide, through its iconic global and local brands, and the commitment and passion of its approximate 27,000 employees. Visit www.merlinentertainments.biz for more information.
About LEGOLAND Parks
The first LEGOLAND Park opened in 1968 in Billund, Denmark, followed by Windsor in the United Kingdom in 1996 and in California in 1999. In 2002, LEGOLAND Deutschland opened. Since 2005, those four parks have belonged to British-based Merlin Entertainments Group. In 2011, the group opened LEGOLAND Florida and LEGOLAND Malaysia in 2012. LEGOLAND Dubai recently opened in October 2016, with LEGOLAND Japan scheduled for the second quarter of 2017. To learn more, visit: www.LEGOLAND.com.