WALDEN, N.Y. (Nov. 6,  2017) —- Jennifer DeFrancesco of Campbell Hall has been named executive director of Hudson Valley Honor Flight, the local nonprofit organization honoring American veterans for all their sacrifices by bringing them to Washington, D.C. to visit their respective war memorials at no cost to them.
DeFrancesco, previously HVHF's Westchester flight safety coordinator, is the daughter of a Marine soldier who served in Vietnam, and understands the importance of recognizing veterans who honorably served the nation.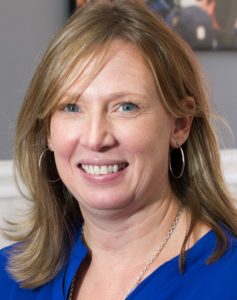 "I have always been extremely grateful for what our service men and women do for our country," said DeFrancesco. "While I have never served my country, I consider this my way to serve and to say, 'Thank you for your service.'  I will do my best to see the continued success of this great organization and I look forward to helping many more veterans as well as working alongside with amazing volunteers."
DeFrancesco has worked as a registered nurse for the last 25 years, including in a Level I trauma center in New York City and Suffolk and Westchester counties.  She has been a flight/ground transport nurse, cardiac care and pediatric emergency room nurse and has assumed leadership roles in several of these positions as a charge nurse.
DeFrancesco became a HVHF volunteer guardian for a World War II on Mission 5 in September 2014.
"That day forever changed my life, she said. "I knew I was hooked."
In October 2014, DeFrancesco joined the HVHF's safety team for Mission 6, the first HVHF flight to depart from Westchester County Airport in White Plains. In January 2015, DeFrancesco assumed the role of safety coordinator for all HVHF Westchester flights. In that role, she contacted veterans and their families to assess their safety and medical needs for their flights.
"My time with Hudson Valley Honor Flight has been one of the most rewarding things I have done," she said. "To hear their stories, their history, to share their smiles and their tears makes hard work, as well as team work, so worth it.   And now, to have been chosen as the new executive director, I'm humbled and honored once again."
Board Chairman Frank Kimler welcomed DeFrancesco to her new role.
"Jennifer intricately understand Hudson Valley Honor Flight's mission and we know she will do an outstanding job," he said. "We look forward to our 2018 flight season and know Jennifer will do everything she can to ensure our participating veterans have a memorable experience and our volunteers know just how much we appreciate their efforts to support our vets."
ABOUT HUDSON VALLEY HONOR FLIGHT
Hudson Valley Honor Flight (HVHF) is a 501c3 nonprofit organization which "Honors American Veterans" for all their sacrifices. HVHF transports these heroes to Washington, D.C. to visit their memorials at no cost to them. It is the local hub of the National Honor Flight Network (which consists of more than 100 independent non-profit "hubs" across America). HVHF flies multiple times a year out of Stewart International Airport and Westchester County Airport. It serves veterans from the following counties: Orange (N.Y.), Ulster (N.Y.), Dutchess (N.Y.), Westchester (N.Y.), Rockland (N.Y.), Sullivan (N.Y.), Putnam (N.Y.), Pike (Pa.), Bergen (N.J.), and Fairfield (Conn.). Veterans from other surrounding counties are considered as well. Top priority is given to those of the Greatest Generation, that of World War II, and terminally ill veterans from other wars. HVHF plans to take ALL veterans from other wars on future flights. Applications are kept on file. For more information, visit http://hvhonorflight.com