Walden, N.Y. (February 27, 2014) — Jacobowitz & Gubits, LLP recently staged an education seminar on newly enacted state nonprofit laws in continuing its mission to educate members of the local nonprofit community.
On Wednesday, Feb. 26, Jacobowitz & Gubits nonprofit law attorney Gary Schuster, Esq. led a seminar titled "The Nonprofit Revitalization Act of 2013 and Its Impact on Your Nonprofit" for members of the Community Foundation of Orange & Sullivan at the Orange County Chamber of Commerce in Montgomery, N.Y.
For more information and pictures on the seminar, please visit www.facebook.com/Jacobowitzandgubits. To view the full presentation, please click here.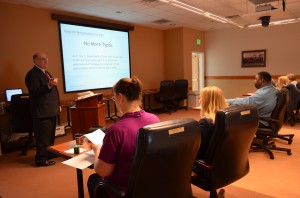 "Jacobowitz & Gubits is honored to provide up-to-date information to our region's nonprofit organizations," said Schuster. "The latest bill, which takes effect July 1, represents the first major revision to nonprofit law in New York State in more than 40 years. It is critical that our community's nonprofits understand them, so they may update their bylaws to comply with new standards."
Topics covered included the simplification of many corporate transactions and procedures, modernization of board procedures and meetings, changes to committee structure, conflict of interest and whistleblower policies, and financial reporting and audits.
In addition to providing educational seminars, Jacobowitz & Gubits attorneys and staff volunteer for many nonprofit organizations in the Hudson Valley region. In the past six months, members of the team have participated in the American Cancer Society Making Strides Against Cancer Walk, the inaugural Hambletonian Marathon and Good Time Trotters Relay and the region's O+ Festival.
Larry Wolinksy, managing partner at Jacobowitz & Gubits, said, "Jacobowitz & Gubits is very active in our community. Sponsoring and participating in events and seminars that benefit nonprofit organizations has a residual effect that reverberates through the region and benefits us all."
About Jacobowitz & Gubits, LLP
Jacobowitz & Gubits, LLP, was founded in 1968 to provide sophisticated legal representation to businesses and individuals throughout the Mid-Hudson Valley and the state of New York. The solo firm established by Gerald N. Jacobowitz has grown into a practice with 28 attorneys and a full staff of paralegals and legal assistants to service a growing and dynamic client base.
Jacobowitz & Gubits, LLP, handles a wide range of legal issues including business litigation, commercial real estate, elder law and estate planning, municipal law, land use and zoning, equine law, veterans disability & income, health care law, personal injury, employment, family law, criminal law and bankruptcy.
For further information on the firm of Jacobowitz & Gubits, LLP please visit www.jacobowitz.com or call (845) 778-2121 or (845) 454-6000.