GOSHEN, N.Y. (March 17, 2016) – Jackie Horner, who much of the book "The Fans' Love Story – How the Movie Dirty Dancing Captured the Hearts of Millions!" was based on, met with Glen Arden Continuing Care Retirement Community guests on March 16 to talk about her dancing career and to share behind-the-scenes tidbits about the making of the movie.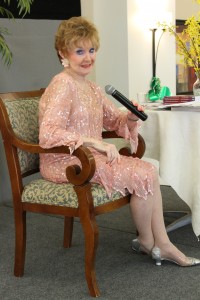 Horner spoke about her experiences as a consultant to the Dirty Dancing movie production. The movie's character Penny was loosely based on Horner, who gives lectures on Dirty Dancing as one of her many regular activities. Dirty Dancing screen credits include a "Special Thanks to Jackie Horner."
Sue Tabashnik's book tells her story — including photos of the era, clothing, hair styles and Horner's additional anecdotes from her experiences as a dance professional at Grossinger's from 1954 to 1986.
As part of her presentation, Horner spoke about her celebrity friendships, sharing stories about Elizabeth Taylor, Errol Flynn, Debbie Reynolds Cliff Robertson, Patrick Swayze and others. She also spoke about her relationship with Eleanor "Baby" Bergstein, the movie's writer and co-producer. The character "Baby" and the movie itself were based, in large part, on Bergstein's own childhood, where she was known as "Baby." Bergstein spent childhood summers learning to dance from Horner.
Joining Horner was Manhattan Cabaret singer Joanna Morton Gary and dancers Pamela Bossert and George Stang.
Bossert and Stang demonstrated what typical dance lessons were like at Grossinger's, and recreated some of the dance moves seen in the movie.
"We love bringing in special presentations such as this," said Lois DiStefano, Glen Arden's director of sales. "A big portion of Glen Arden's appeal is socialization and entertainment opportunities and this is representative of our commitment to offer a wide range of programs and activities to our residents."
ABOUT GLEN ARDEN
Glen Arden, the Hudson Valley's premier Continuing Care Retirement Community, offers seniors 62 and older the perfect combination – independence with the assurance of quality health care, if it's ever needed. Located in beautiful and historic Goshen, N.Y., Glen Arden offers housing choices for an active lifestyle and support services to help residents live comfortably and independently.