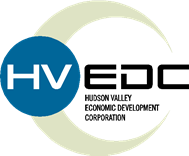 NEW WINDSOR, N.Y. (June 4, 2014) — Hudson Valley Economic Development Corp. (HVEDC) received five annual marketing awards, three of which were best in class, from the New York State Economic Development Council (NYSEDC) at its annual conference.
HVEDC received honors in several categories, including Printed Advertising Material (Best in Class), Annual Report (Best in Class), Multi-Media Advertising (Best in Class), Printed & Electronic Newsletter (Certificate of Excellence) and Website (Honorable Mention).
"We are thrilled to again win recognition from NYSEDC for our marketing efforts," said Laurence P. Gottlieb, president and CEO of HVEDC. "The Hudson Valley is a wonderful place to work, live and visit and we are committed to crafting comprehensive marketing campaigns that trumpet the region's greatest assets. Our success would not be possible without our marketing and video production partners, Focus Media and Ellenbogen Creative Media.
In the Printed Advertising Material category, HVEDC and Focus Media developed marketing pieces for numerous businesses and organizations in the food and beverage industry throughout the Hudson Valley. The organization was honored in this category for its full-page magazine advertising pieces developed for a variety of local food and beverage companies including distilleries, bakeries, chocolatiers and others as part of HVEDC's Hudson Valley Food & Beverage Alliance cluster marketing initiative.
HVEDC received an award in the Annual Report category, which included an in-depth report on the organization's latest cluster marketing initiative: Hudson Valley 3D Printing (HV3D). A timeline of the initiative from its inception, to its launch and eventually to establishing industry partnerships conveyed HVEDC's dedicated efforts to make the region a new hub for this advanced technology. The report also contains personal profiles and descriptions of some of the spectacular accomplishments made by a number of the Hudson Valley's most noteworthy citizens and business leaders.
HVEDC's winning entry in the category of Multi-Media Advertising includes three web videos to promote HV3D, filmed and produced by Ellenbogen Creative Media, and a radio ad. The videos, available for viewing at www.youtube.com/HudsonValleyEDC, feature statistics on the industry, information about the initiative's key stakeholders, and provide a launch event recap, consecutively.
In the Printed and Electronic Newsletter category, HVEDC received accolades for its communications on the numerous thriving businesses in the Hudson Valley. Its newsletter includes updates on business expansions, key industry clusters and more.
In the Web site category, HVEDC's StartUp NY site for the region received an honorable mention. As the resource for regional economic information, HVEDC launched www.startupnyhudsonvalley.com late last year to keep local business people up-to-date on the governor's StartUp NY program.
"We take great pride in representing a multi-faceted organization such as HVEDC, one of the region's most important organizations," said Josh Sommers, president and CEO of Focus Media. "We are extremely proud to be a marketing and economic development partner of HVEDC."
"Working with Larry Gottlieb to promote a project as exciting as HV3D was our pleasure," said Jeremy Ellenbogen, president and CEO of Ellenbogen Creative Media. "We look forward to working with HVEDC in the future to promote economic development in the region."
HVEDC works closely with state and local organizations and government agencies to stimulate economic growth throughout the region. Over the past several years, HVEDC has been a state-wide leader in developing regional marketing programs that have brought global attention to the Hudson Valley.
About Hudson Valley Economic Development Corporation (HVEDC): HVEDC is the leading economic development agency for the seven-county region of Westchester, Putnam, Dutchess, Rockland, Orange, Ulster and Sullivan counties. The public-private partnership markets the region as a prime business location to corporate executives, site selection consultants and real estate brokers. HVEDC helped start the organizational, branding and promotional effort for NY BioHud Valley, Hudson Valley 3D Printing and the Hudson Valley Food & Beverage Alliance. To learn more, call 845-220-2244 or visit http://www.hvedc.com.