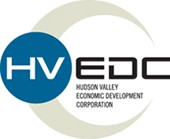 NEW WINDSOR, N.Y. (October 6, 2015) — For the first time in its history, the Hudson Valley Economic Development Corp. (HVEDC) announced today that the International Economic Development Council (IEDC) has named HVEDC as a Gold Award recipient for the organization's Hudson Valley 3D Printing (HV3D) cluster development initiative. Competing with some of the largest regions in the nation, HVEDC has received the award in the category of Regionalism and Cross-Border Collaboration for Population Centers Greater Than 500,000, and is now eligible to compete for an additional Best in Show Award to be announced later.
"We are incredibly honored and humbled to have the HV3D initiative internationally recognized by such a prestigious institution, especially when you consider we were competing against some of the largest population centers in the country," said HVEDC President and CEO Laurence P. Gottlieb. "This award is for all of the HV3D partners who continue investing in the future of the Hudson Valley, as we collectively work towards building a technologically advanced regional workforce that will fortify the area economy against future economic downturns."
HVEDC's HV3D focuses on increasing Hudson Valley residents' access to and engagement with 3D printing facilities and education. Since its launch in 2013, the program has seen immense success, and has fostered relationships between academia, business and community leaders, entrepreneurs, investors and students. The initiative was also the catalyst for the incorporation of 3D printing education into curricula across multiple higher learning institutions and high schools in the region. In recent years, HV3D has played a local, statewide and national role in highlighting the importance of increased access to 3D printing technology.
"This prestigious award from IEDC pays tribute to HVEDC's on-going commitment to expanding the Hudson Valley's economy through smart, strategic initiatives," said James Laurito Central Hudson president and CEO, and HVEDC board chairman. "Through HV3D-based programing, local entrepreneurs and students are accessing advanced digital design and fabrication technologies, which are enhancing their capacity to develop a vast, rich knowledge base that will benefit their career ambitions as well as the economic future of the Hudson Valley."
"3D printing is an exciting technology, but perhaps even more exciting is how the Hudson Valley is successfully positioning itself as a leader in an alternative manufacturing technology that the United States currently leads the world in," said Westchester County Executive Robert P. Astorino. "By coupling our proud local manufacturing heritage with our technology-advanced economic strengths and talented local intellectual capital, the future of the Hudson Valley economy is bright."
Each year the IEDC presents 34 of its Excellence in Economic Development Awards to the world's best economic development programs, partnerships, marketing materials and leaders. Each award is designed to recognize advancement and positive changes in urban, suburban and rural communities. Winners are presented with their awards at the IEDC Annual Conference.
"SUNY New Paltz is proud to lead the educational and business outreach aspects of the HV3D cluster initiative," said SUNY New Paltz President Donald Christian. "The widespread impact of the HV3D cluster initiative on learning and on our campus is undeniable. Students are responding to increased access to 3D technology, and so are our government leaders. Through the recent grant from Governor Cuomo, we will build upon HV3D's success to extend and support the Hudson Valley Advanced Manufacturing Center."
"Such notable recognition will call national and international attention to the important influence that the HV3D initiative is having on our community and future workforce," said Putnam County Executive Mary Ellen Odell. "Through HV3D, HVEDC and SUNY New Paltz have enabled residents of our area to learn about and experiment with advanced types of fabrication and design to which they would otherwise not have access."
"Students at Sullivan County Community College and the Fallsburgh School District are proof that increased integration of technology into curricula successfully challenges students in new areas of their learning," said Scott Samuelson, chairman of the Sullivan County Legislature. "Recognizing the important work done by the HV3D initiative has the power to inspire other regions to follow in their educational footsteps."
As part of the HV3D initiative, the nation's first MakerBot 3D Printing Innovation Center was built at SUNY New Paltz. The acclaimed center provides students and local residents with unprecedented access to 3D printing technology, training classes and onsite assistance with the digital design and fabrication platforms. The center compliments a $10 million grant SUNY New Paltz received to build an Engineering Innovation Hub at SUNY New Paltz as an extension of the technological initiative.
"This impressive award is a credit to the tireless work HVEDC and its many partners have completed to bring unparalleled access to 3D technology to the Hudson Valley," said SUNY Ulster President Alan Roberts. "Throughout our campus we are seeing a significant increase in student interest in digital design, and the HV3D initiative provides a clear-cut means for improving learning in this arena."
"The HV3D cluster is the ideal example of how businesses, educational centers and local residents can come together to invest in the future of a region," said Ulster County Executive Mike Hein. "The initiative continuously serves the community by providing key resources to students and creating a regional technological hub that appeals to national high-tech industry leaders."
"For local Hudson Valley businesses to be able to have access to and use such advanced 3D printing technology gives us a competitive edge in the way we conduct and market our companies," said Dutchess County Executive Marcus Molinaro. "Since the launch of the Hudson Valley Advanced Manufacturing Center (HVAMC), a large number of businesses – many from Dutchess County – have become clients of the 3D design and fabrication services offered by the Center."
The IEDC award for Regionalism and Cross-border Collaboration recognizes innovative approaches to regionalism and other forms of cross-border cooperation. The HV3D cluster initiative was awarded the honor for demonstrating an innovative approach to fostering and sustaining regional and cross-border collaboration in the development of partnerships throughout the planning, development and financing of the program. Program partners across the seven-county region directly influenced the economy through implementing a creative economic solution that betters the local workforce.
"Through HVEDC's investment in our school's equipment, the students at San Miguel Academy have unparalleled access to the latest technology in digital printing and design," said Fr. Mark Connell, president of San Miguel Academy of Newburgh. "Our students can now adopt a wide range of diverse technical and critical thinking skills that will be able to serve their futures and our community throughout their lifetimes."
"As a partner in this program's development, I am proud to see HV3D recognized for its important role in increasing educational services in the area of digital design and fabrication technology. Providing students with hands-on learning experiences with 3D technology is an invaluable opportunity that is transforming how the nation views our region's workforce," said Hudson River Ventures CEO Mike Oates.
"We are happy to have partnered with HVEDC for this important initiative, and know that our investment in HV3D's critical educational outreach program – partnered with the installation of MakerBot 3D printer systems at several, local secondary educational institutions – will have a long-lasting impact on industry development within the Hudson Valley and throughout New York State," said Joe Rizzo, manager, economic development and community relations at New York State Electric and Gas (NYSEG) and Rochester Gas and Electric (RG&E).
Since the project's launch, students and entrepreneurs of the region have utilized the Hudson Valley Advanced Manufacturing Center for countless design projects, including the creation of a robotic hand, prosthetics and a wide variety of new and imaginative products, which are being sold throughout the country. Through recent grants and growth in partnerships, the HV3D cluster initiative plans to continue providing extensive 3D printing resources and education for Hudson Valley residents.
"HV3D's innovative technology has had a positive impact on Orange County, helping residents in a variety of ways. In addition, HV3D has created local jobs and has been the catalyst for economic growth. This manufacturing project has certainly been a win for the Hudson Valley," said Orange County Executive Steven M. Neuhaus.
"The Smart Lab 3D printing center at Rockland Community College has transformed the way that local students are approaching visual arts and design fabrication," said Rockland County Executive Ed Day. "Our county's work with the HV3D initiative has allowed us to make monumental strides in how we prepare students for cutting-edge and challenging careers."
About Hudson Valley Economic Development Corp. (HVEDC)
HVEDC is the leading economic development agency for the seven-county region of Westchester, Putnam, Dutchess, Rockland, Orange, Ulster and Sullivan counties. The public-private partnership markets the region as a prime business location to corporate executives, site selection consultants and real estate brokers. HVEDC helped start the organizational, branding and promotional effort for NY BioHud Valley, Hudson Valley 3D Printing, Hudson Valley EDs & MEDs and the Hudson Valley Food & Beverage Alliance. To learn more, call 845-220-2244 or visit http://www.hvedc.com.