Town of Lloyd, N.Y. (Feb. 20, 2013) – Hudson Valley Wine Village, Inc. today unveiled a master plan for a $273 million mixed-use development on 429 +/- acres in the Town of Lloyd, which balances responsible development with the important physical characteristics of the site.  Hudson Valley Wine Village also released an economic impact study detailing the increased tourism and job growth associated with the project.
Significant planning and studies were conducted to create a master plan that would bring new economic opportunities to the town and region, while maintaining great sensitivity to the environment and Hudson River. The multi-phase project intends to develop the property, located between Route 9W and the Hudson River, while preserving the Hudson River viewshed, critical wetlands and steep slopes under a carefully integrated plan.
An economic impact study was prepared by Camoin Associates, a firm with significant depth of knowledge in the Town of Lloyd. Prior to working with Hudson Valley Wine Village, they were retained directly by the Town in 2011 to create a development study for the Hamlet of Highland.
The Camoin study found that proposed project will provide long-term economic activity, including a 20-year build out, resulting in $273 million in total construction investment. The project is expected to create 164 construction jobs with $7.6 million in earnings annually (2012 dollars) and approximately 1,819 direct and indirect permanent jobs, with approximately $79 million in annual earnings. This includes new employment at the project (direct effects) and that which results from increased spending in the local economy, as businesses make additional purchases and employees spend their wages locally (indirect effects).
As a master plan inclusive of commercial, light industrial and residential, the revenues from Hudson Valley Wine Village will provide significant tax surpluses. Tax revenues will far outweigh municipal and school expenses, providing immediate new net tax income after just one year of construction. At full build out, Town and Special District annual tax surpluses are anticipated to be $1.9 million, with the School District's surplus of $3.67 million.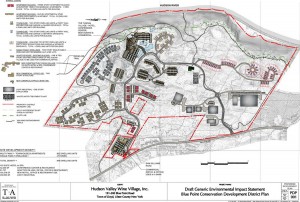 The centerpiece of Hudson Valley Wine Village will be a 103-room suite hotel, conference center, spa and restaurant. Additionally, 155,000 square feet of office and commercial space is planned to meet the demands for this type of space in Ulster County. The project will also include 847 residential units, including a mix of single-family, two-family and multi-family homes. As job growth is developed at the site it will create a new demand for housing at Hudson Valley Wine Village. Housing will be phased-in over the 20-year build out.
Hudson Valley Wine Village will preserve over half of the site as open space, including the visually important Hudson River bluff. The project will seek to dedicate walking trails on the property for public use and an interconnection with the trails in the adjacent Franny Reese State Park would allow for access to the Walkway over the Hudson and the Rail Trail.
In addition to the quantitative impacts of the project on the Town of Lloyd, it will also positively impact the Town in non-quantitative ways. The influx of new economic activity, residents and development will positively impact local businesses and help to revitalize the Highland Hamlet downtown business district and the surrounding area, promoting additional commercial development, drawing more tourists and shopping, creating more jobs and an increased demand for homes.
For more information:
Josh Sommers
President and CEO
Focus Media
(845) 294-3342, x303
josh@advertisingandpr.com
Click for:
Hudson Valley Wine Village Fact Sheet
Link: Economic and fiscal impact studies from Camoin Associates:
http://www.townoflloyd.com/pages/LloydNY_LegalNotices/HudsonValleyWineVillageDGEIS/Appendices/R.%20Draft%20Report%20-%20Retail%20Alternative%20Economic%20and%20Fiscal%20Im.pdf
http://www.townoflloyd.com/pages/LloydNY_LegalNotices/HudsonValleyWineVillageDGEIS/Appendices/R.%20Final%20Report%20-%20Economic%20and%20Fiscal%20Impact%20-%20HVW.pdf