Walden, N.Y. (May 8, 2014) – Jacobowitz & Gubits, LLP, a Walden-based law firm that serves individuals, municipalities and businesses, in conjunction with Scott Lask Wealth Management Group, Russell Investments and Robert Feldman, MD, FACS, recently held a seminar focused on the legal changes in the Affordable Care Act. The event was prompted by local reaction to recent changes in the federal healthcare code.
On Wednesday, May 7, the Leadership Forum titled "Demystifying the Affordable Care Act: What It Means for Your Business," held at Cosimo's on Union in Newburgh, N.Y., was offered in an effort to educate physicians and medical facilities in the region on new legal requirements in the changing healthcare landscape.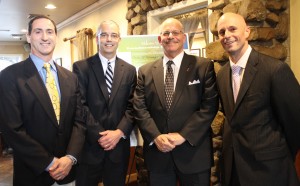 The event featured a panel consisting of Jason Scott, Esq., a healthcare attorney with Jacobowitz & Gubits; Robert Feldman, MD, FACS, a general and vascular surgeon; and Thomas J. Gibney, Senior Vice President & CFO, St. Luke's Cornwall Hospital. The panel was moderated by Scott Lask, a wealth management expert.
Jason Scott said: "The Affordable Care Act is an extremely complicated law. We feel it is our duty to not only advise our clients on the implications of its revisions, but also physicians and medical facilities across the Hudson Valley. It's a large-scale issue that needs a large-scale conversation."
Dr. Robert Feldman said: "The new healthcare law is going to dramatically change the way I do business. Being a part of this panel discussion among my colleagues was a great opportunity to share my experiences with fellow physicians and deal collectively with compliance. We're all in this together."
Thomas J. Gibney said: "Medical facilities across the country are greatly affected by the Affordable Care Act. We've been preparing for it for some time now and it can be very challenging to keep up with the constant revisions to the law. This seminar was a great opportunity for us to not only discuss our experiences, but also learn how we can help each other become better business executives."
The Leadership Forum seminar series focuses on healthcare and the law, and its effects on practices and medical facilities in the Hudson Valley. A second seminar is currently in the works for June 2014.
For more information on the upcoming seminar, interested parties can contact Sarah LaGrande at 845-778-2121, ext. 266.
About Jacobowitz & Gubits, LLP
Jacobowitz & Gubits, LLP, was founded in 1968 to provide sophisticated legal representation to businesses and individuals throughout the Mid-Hudson Valley and the state of New York. The solo firm established by Gerald N. Jacobowitz has grown into a practice with 28 attorneys and a full staff of paralegals and legal assistants to service a growing and dynamic client base.
Jacobowitz & Gubits, LLP, handles a wide range of legal issues including business litigation, commercial and residential real estate, elder law and estate planning, municipal law, land use and zoning, equine law, education, health care law, personal injury, employment, family law, criminal law and bankruptcy.
For further information on the firm of Jacobowitz & Gubits, LLP please visit www.jacobowitz.com or call (845) 778-2121 or (866) 640-4848.