Healey Lincoln's influencer marketing efforts are a fresh approach in the automotive industry.
GOSHEN, N.Y. (Aug. 2, 2017) — Healey Lincoln in Goshen is expanding the way it markets its product line by using influencer marketing opportunities to raise awareness of its brand. The Hudson Valley's largest automotive dealer hopes the innovative strategies will create long-term product loyalty via social media platforms.
With the participation of five high-profile Hudson Valley residents, Healey Lincoln launched its influencer marketing campaign on Aug. 1. Each of the five local influencers was handed the keys to a brand new Lincoln. Over the next five months, they will test drive all five Lincoln models. The five chosen individuals have agreed to drive the cars — no strings attached — with only requirements to post their honest experiences on their personal social media platforms.
Healey Lincoln's campaign is one of the first of its kind in in the automotive industry.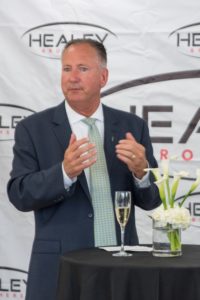 "We realize innovative business practices will help further ensure our success as a dealership," said John Koerner, executive general manager. "This means looking at different ways to reach out to the local market regarding our product line. Because of the power of social media platforms, we believe this is a great addition to our marketing strategies."
Influencer marketing, new to the automotive and other industries, allows a company to reach new audiences through an individual's use of social media. In this instance, a person's followers will see what he or she thinks about the cars he or she is driving via written posts or posted videos.
"We're asking our five participants, who have never owned a Lincoln, to get behind the wheel of five different models to experience the luxury, comfort and customer service that comes with owning a Healey Lincoln," said Koerner. "Each person is driving one of our models for one month, and rotating though five different cars. We look forward to hearing about their experiences, whether they're good or bad, on their social media platforms."
Participants are not being paid for their participation. Lincoln Healey is providing the vehicles at no cost, including insurance. Participants only need to cover gas costs.
The five area residents participating are:
• Chuck Benfer, IHeart Media Inc. market president
• Alexis Eggleton, creator and author of the nationally-recognized blog, "Trading Cardio for Cosmos"
• Claudia Jacobs, owner of Claudia Jacobs Designs LLC
• Quanah Jay Hicks, known as "Quanah," a singer/songwriter, music producer, multi-instrumentalist, photographer, cinematographer, director of films and composer of film scores
• Victor Vargus, DJ and party motivator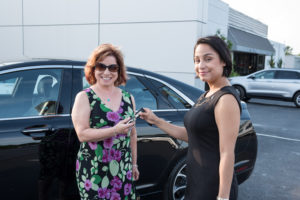 Over the next five months, each will drive a Lincoln Navigator, Continental, MKC, MKX and MKZ.
"I think it's an interesting way to test drive a luxury vehicle," said Claudia Jacobs. "I will be totally honest about my observations and driving experiences. No one will be vetting any of my comments or telling me what to post."
Koerner is hopeful the influencers' followers will want to know more about the Lincoln product line.
"Through social media, their friends will come along for a virtual ride and learn more about Healey Lincoln," said Koerner. "We're very confident their experiences will be positive."
About Healey Brothers
Healey Brothers, the Hudson Valley's largest automotive dealer, is a company of seven vehicle dealerships in the Hudson Valley owned by brothers Paul and Dwight Healey. Healey Brothers is the Hudson Valley's premier authorized dealer for these brands: Chevrolet, Buick, Ford, Lincoln, Chrysler, Dodge, Jeep, Ram, Kia, Hyundai and Mitsubishi. To learn more, visit: http://www.healeybrothers.com/