GOSHEN, N.Y. (Feb. 3, 2016) — The Glen Arden continuing care retirement community recently hosted a New Resident Welcome Reception honoring six residents who are new to the campus.
Over 70 friends and families of the honorees gathered to hear how their life experiences will make them pillars of the Glen Arden community in Goshen, according to Lois DiStefano, Glen Arden's director of sales.
Honorees were:
John DeVora, a former Queens resident, payroll employee and Mets fan who enjoys watching sports on television and collecting CDs and records. DeVora was recognized for his positive attitude in the face of challenges.
William Denette, a former Washingtonville resident and long-time school volunteer with a distinguished naval career. He was recognized for his volunteer work and for serving the nation.
Joan Goldberg, a former Middletown resident and attorney who argued before the U.S. Supreme Court. Goldberg was recognized for serving as an "honorary" member of Glen Arden's marketing department and her contributions to the legal community.
Mary McGinley, a former Fair Lawn, N.J. resident who enjoys knitting, crocheting, reading and volunteering. McGinley was recognized for the compassion she shares with other residents.
Dorothy Mueller, a lifelong homemaker from Montgomery, was recognized for her kindness, warmth and humbleness she shows other residents.
Estella Schulman-Cabaret, a cookbook author and painter who lived in France and St. Maarten and, most recently the state of Florida, who was also a boutique and sundry shop owner.  Schulman was recognized for her knowledge of food, travel and life.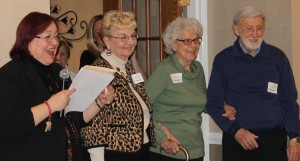 "Our residents' life experiences make Glen Arden a better place," said DiStefano. "We are thrilled to see our Glen Arden community filled with so many unique and talented people who want to share their experiences."
ABOUT GLEN ARDEN
Glen Arden, the Hudson Valley's premier Continuing Care Retirement Community, offers seniors 62 and older the perfect combination – independence with the assurance of quality health care, if it's ever needed. Located in beautiful and historic Goshen, N.Y., Glen Arden offers housing choices for an active lifestyle and support services to help residents live comfortably and independently.